Meet our new faculty member: Dr. Jawad Hasan Shoqeir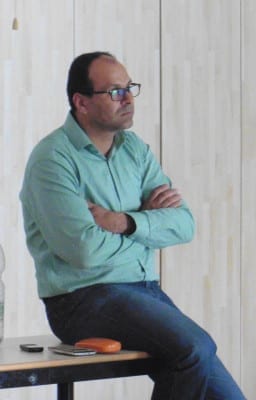 The Arava Institute faculty has recently welcomed a new lecturer: Dr. Jawad Hasan Shoqeir, who is the director of the Soil & Hydrology Research Unit, at the Department of Earth and Environmental Sciences, Al-Quds University, Palestine, and former chair of the department. Dr. Shoqeir teaches several undergraduate and graduate courses on natural resources management and cross conflict issues among riparian countries.
Dr. Shoqeir scientific interests are focused on a number of fields such as: integrated resources management (IRM), soil, surface water and groundwater analysis and quality. Dr. Shoqeir was involved as a principle investigator in several national and international projects, for example a research project (2010-2016) funded by the German Research Foundation on olive oil mills waste water– soil interactions and contamination.
In the Spring 2016 semester Dr. Shoqeir will be teaching "Introduction to Solid Waste", and also facilitate the Independent Study course together with Dr. Dan Tamir.
Submitted by Hannah Kadish