Acacia research in the Arava Valley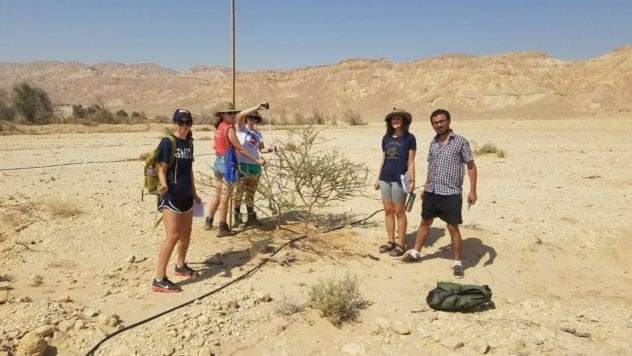 The research during my internship with Dr. Elli Groner at the Center for Hyper-Arid Socio-Ecology thus far has been focused on the majestic Acacia trees, a keystone species in the Arava, and their response to climate change. There are three species of acacia in the Arava Valley: tortilis, radianna, and pachyceras. For research purposes, the Arava Institute planted 135 trees to learn more about the different species responsiveness to differing quantities of water. They have been watered at different intervals for the past six years. This year we measured several different morphological characteristics such as tree height and canopy area.
There is some worry about losing the pachyceras in the coming years to the effects of climate change. Because it originated farther north of the Arava, it is less well adapted to the drought like conditions in the region. We anticipate even less precipitation in the already hyper-arid Arava desert, and this study was designed to test each species' response to decreased quantities of water, 25% and 12.5% of the water needed by the acacias currently. In preliminary results, the Acacia pachyceras seems to be the most sensitive to decreased water supply. As the region's keystone species, the trees provide food, shelter, and soil stability to nearly all of the animal and plant species in the region. Therefore, we are hoping the research will demonstrate the urgency of the problem of climate change by highlighting the ecosystem-wide damage that will be caused by the loss of the Acacia pachyceras in the Arava.
Submitted by Spencer Johnswick