Campus Life Team
Campus life provides students with the opportunity to explore and enjoy their exceptional campus community. The Arava Institute Campus Life Team ensures that there is a full calendar of social activities that increase environmental and cultural awareness on campus.
The Campus Team consists of the Campus Life Director and two Program Associates. The Program Associates are alumni of the program. They live on campus with the student and work with the Campus Life Director in the daily running of the campus.
---
Meet the Campus Life Director
Tess Lehrich Haber: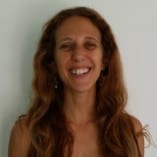 Tess moved to Israel in 2008 after earning a Bachelor's degree in Sociology and History from New York University. Upon arrival, she immediately got involved in the budding environmental movement, leading grassroots initiatives such as community gardens and local composting projects. After a year in Beer Sheva working in the field of environmental justice, Tess moved to Tel Aviv, where she worked for Farmigo, a tech start-up working to create a platform for a local and sustainable food system. In 2012, Tess completed her Master's degree in Environmental Studies at the Porter School for Environmental Studies at Tel Aviv University. Her professional experiences include managing a city wide project in waste separation at Hava V'Adam Ecological Farm in Modiin, working as a Resource Development Coordinator at the Heschel Center for Sustainability in Tel Aviv, and running an internship program for international Master's students at her alma mater, the Porter School for Environmental Studies at Tel Aviv University. Tess is happy to join the Arava Institute as the Campus Life Director and to relocate to the desert with her husband and daughter.
---
Meet the Fall '16 Program Associates
Liron Greenberg
Liron was born in the US and grew up in Kfar Saba, Israel. She studied at the Arava Institute in the Fall '15 and Spring '16 semesters, after studying Earth Sciences and Environmental Studies at Hebrew University. Liron is an active volunteer with Akim, the National Association for the Integration of People with Intellectual Disabilities in Israel. She is looking forward to her second semester as a Program Associate, and cannot wait to introduce the new participants to the Arava Institute.

Mohannad Nairoukh
Mohannad was born in Jerusalem, grew up in Amman, Jordan, and returned to Jerusalem in 2011. He holds a Bachelor's degree in Accounting and Commercial law from Hashemite University in Jordan, but recently decided to change direction and become involved in society development, and humanitarian activism. Before studying at the Arava Institute in 2016, he volunteered as an English and Hebrew teaching assistant for African communities in Jerusalem, and as a translator in villages in the West Bank with Human Rights Watch. He is excited to return to the Institute as a Program Associate and enjoy the semester with a new group of students and interns.
Campus Life Activities
Outside of their academic schedule, students frequently take part in a variety of extracurricular activities including desert hiking, yoga, gardening, camping, mud building, music and horseback riding. There are regular potluck dinners, festive meals and religious and secular holiday activities, as well as culture, music and movie nights.
Each semester, students are encouraged to form their own activity groups based on subjects they want to teach and learn. Past activities have included conversational Hebrew and Arabic, salsa dance, gardening and environmental action, and creative writing.
Students are also invited to take part in Kibbutz events, holidays, and general activities. Students often mingle with kibbutz members and volunteers at the kibbutz pub and have the opportunity to be hosted by a kibbutz family for meals and coffee during the semester.
The Weekends
Although there are students on campus during the weekends and breaks, during the semester many students choose to travel, often being hosted in the homes of classmates or alumni that they meet on the program. The Arava Road, or Highway 90, runs just outside the main kibbutz gate, with buses going south to Eilat (a resort city on the Red Sea that borders Aqaba, Jordan) and north to the Dead Sea (two hours away), Be'er Sheva (three hours away), Tel Aviv and Jerusalem (each four hours away). For a quicker get-away, students visit a neighboring kibbutz called Yotvata, which is famous for its delicious ice cream and chocolate milk, made fresh from Yotvata's dairy.