Omar
Omar is a Palestinian from Hebron. One of many siblings, Omar has a Bachelor of Science in Education and worked as a science teacher prior to attending the Arava Institute. Last semester at the Arava Institute, Omar undertook an independent study on the condition of water in Halhoul and local attitudes toward wastewater treatment, supervised by Dr. Clive Lipchin, director of the Arava Institute Center for Transboundary Water Management.
The academics, students, and atmosphere of acceptance during the semester left an impression on Omar who stated, "The people there are special. Everyone was equal. Everyone was the same. There's no split." He added that prior to studying at the Arava Institute, "I didn't know Jewish people or have Jewish friends. Now, because of Arava, two of my best friends are Jewish."
Omar continued his studies at the Arava Institute this semester. His favorite class is environmental education because of its relevance to his teaching background. In the future, Omar hopes to pursue a master's degree.
Liron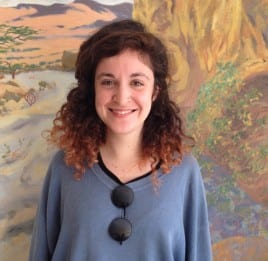 Liron grew up in Kfar Saba, Israel. She studied Earth Science and Environmental Studies at Hebrew University, and came to the Institute to explore a more diverse background in environmental education. Once she arrived, she enjoyed the opportunity to live and study with students she would not have otherwise met. The more she learns about the conflict the more complicated the situation seems to her, but she feels that she now better understands its dual narrative.
One of her strongest memories from her time at the Institute was seeing another student's Facebook post about a stabbing attack in Jerusalem in the fall of 2015, and being able to talk with him about it in the student lounge almost immediately. They disagreed but continued to be friends and are still very close today.
Her favorite class was Conflict and Cooperation with Dan Tamir. She loved all the student participation and active conversation. Generally she loves the small class size that usually averages around 15 students.
Liron wants to stay active in the alumni community. She is excited about all the doors her experience is opening and future connections.
Ben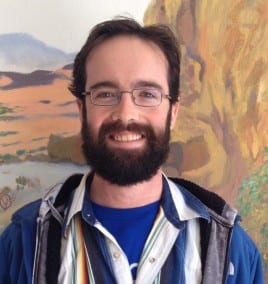 Ben grew up in Upton, Massachusetts, and studied Civil and Environmental Engineering at Lafayette College. He first heard about the Arava Institute after college during his Adamah fellowship at the Isabella Freedman Center. After meeting Dr. Elaine Soloway, Director of the Center for Sustainable Agriculture, during a permaculture design course, Ben applied for a Fulbright Scholarship to attend the Arava Institute and assist Elaine Soloway's research on Frankincense trees. Frankincense trees carry both religious and medicinal importance. The resin or gum created by slashing the bark of the tree is anti viral and anti bacterial and is currently being studied as a means of cancer prevention and treatment. Ben views his work as multi-generational with the goal of being able to help the tree increase its genetic material.
Ben loves his research but also treasures being able to study with Jordanians, Arabs, Israelis and internationals. Ben views himself as part of the new group of environmental peace leaders and plans to attend Ben-Gurion University at Sde Boker for a masters in Desert Studies focusing on off-grid living.