Meet the Arava Institute interns
Jaclyn Best, Research Intern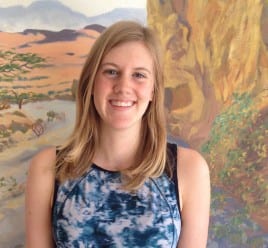 Jaclyn grew up in Boulder, Colorado, and graduated from the University of Denver in June of 2014 with a BA in Environmental Science.
When she arrived at the Institute she didn't realize how big of an effect the multi-cultural living experience would have on her, and she is very happy the experience isn't solely focused on academics.
Jaclyn loves working with Dr. Clive Lipchin, the Director of the Center for Transboundary Water Management. She has worked on many different projects during her time at the Institute but among her favorites are the research she did on greywater policy and laws comparing Israel, Jordan, Palestine, the US and Australia. In addition, she was one of the authors of a paper titled "Mitigating transboundary wastewater conflicts: Building partnerships and trust through collaborative dialogue", that is being published in the Journal for Peacebuilding and Development. She also wrote a report about wastewater treatment in the West Bank, that was submitted to the Knesset about wastewater treatment in the West Bank.
Ela Israel, Research Intern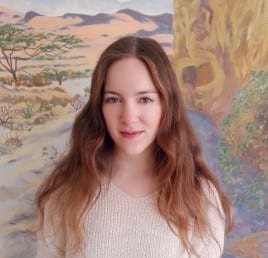 Ela grew up at Kibbutz Kfar Menachem; she has a degree in Geography and Environmental Development from Ben-Gurion University.
After finishing her degree in 2014 she began to work in a company as a project manager, focusing on aerial photography and building construction. After a year, she felt that something was missing from her life: passion for nature, and the opportunity to be close to it again. When she completed her projects at her company she decided to leave and start an internship at the Arava Institute for Environmental Studies.
When discussing her experience at the institute she speaks about the intensity of the experience and the need to process it. She really enjoys her time, the community life as well as her new friends, freedom, independence, and her calm life in the desert.
Ela's is conducting research on the Normalized Difference Vegetation Index (NDVI) with Dr. Elli Groner of the Center for Hyper-Arid Socio-Ecology. She is analyzing the condition of Acacia trees based on a NDVI camera and creating a manual of how and when to use this remote sensing technique to understand the desert vegetation better.
Shae Selix, Research Intern
Shae Selix is a third generation Californian who interned at the Arava Center for Transboundary Water Management from September 2012 until June 2013. He graduated in 2012 from Brown University with a BS in Environmental Science and would eventually like to work at an environmental consulting firm or as an EDA federal agent. In addition to his long running interests in the environment, peacebuilding, and politics, he is a black belt in Tae Kwon Do and plays the ukulele.
During his internship at Arava, Shae used GIS technology to map the Hebron Stream as part of a long-term project conducted by the Center for Transboundary Water Management. The heavily polluted stream begins near the city of Hebron in the West Bank and flows through Bedouin villages, Israeli cities, and then Gaza before finally entering the Mediterranean Sea. Along the way, the stream flows through a collection of urban and industrial areas where people are dumping into the stream and making it unusable. "I'd like to think of my work as describing politics," Shae says, pointing out the mapping he is doing clearly shows that despite contentious boundaries, the land and water are shared. "It may be cheaper to dump pollutants on vulnerable land," he says, "but then it just comes back to hurt (the polluters)." The data he collected was incorporated into online maps, which will be used to engage stakeholders along the route of the stream. In Fall 2013, Shae starts a master's in public health at Yale University. He hopes to come back to the Middle East to work on water pollution in the future.
Shae says he was pleasantly surprised by the diversity of the fellow students and interns at the Arava Institute.  While the Institute is based in a Jewish country and on a Jewish kibbutz, students and interns reside in a mixture of different cultures on our campus.  Shae would regularly hear multiple languages spoken every day, and not just English, Hebrew, and Arabic.  He says, "AIES really seems to attract worldly people who have a strong desire to meet people different from themselves."
Amelie Joseph, Research Intern
Amélie Joseph interned for the Arava Center for Long-Term Socio-Ecological Research (LTSER) in Spring 2012. Amélie, originally from France, came to Israel with the goal to delve deep into environmental and agricultural issues, and learn about peace building and cooperation. Currently, Amelie lives in England, where she volunteers in a community-run café/art gallery which promotes local artists and environmentally-minded projects. She is also deepening her knowledge of permaculture, learning about local community initiatives in England and in France, and photographing the local wildlife.
Amelie reflects on her LTSER internship, saying, "Not only did it allow me to do interesting work around environmental services, acacia trees, and to widely extend my knowledge about environmental issues in the Middle East, but it gave me a unique opportunity to deeply discuss peace, politics, sustainability, life with amazing people from Israel, Palestine, Jordan and all over the world. As a non-Jewish European girl who came to Israel almost by chance, this experience was priceless. And now that I am out of the "bubble", I realize I gained confidence on my ability to be the change that I want to see in the world."
APPLY
To apply for an internship, and to learn more, click here.