The Arava Institute for Environmental Studies is proud to offer the Bley Stein Visiting Professorship. Generously funded by Dr. Ron Stein, this fully-paid opportunity offers a week-long experience in an extraordinary academic and research community where environmental issues are cooperatively studied by Israelis, Palestinians, Jordanians, and students and faculty from around the world. The Bley Stein Visiting Professor leads seminars for students and faculty, collaborates with researchers at the Institute, has the opportunity to participate in a public event held in the center of Israel, and take part in an Arava alumni gathering in the region.
For more information, please contact Cathie Granit, Program Director.
Bley Stein Visiting Professors
OCTOBER-November 2017 VISITING PROFESSOR
Dr. Shé Hawke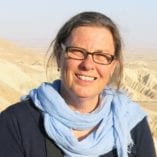 Dr. Shé Hawke developed the 'water literacy' (2012) methodology which is now being applied in an inter-disciplinary context, such as biosocial anthropology, sociology and policy studies. The focus of her research is in understanding how and what water means to different stakeholders and how governance and policy are enacted in geographically specific places. Her research is informed by the Sustainable Futures project That engaged the Indigenous People of The Northern Rivers of NSW (Widjabul), Australia and the local water authority, Rous Water. Dr. Hawke is an Adjunct Scholar from the University of Sydney and the University of Canberra, she is engaged in ground-breaking innovative research in social science, seeking to house the research in a collaborative international domain.
October 2015 VISITING PROFESSOR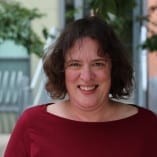 Dr. Kate O'Neill
Dr. Kate O'Neill is Associate Professor in the Department of Environmental Science, Policy and Management at UC Berkeley and holds a Ph.D in Political Science from Columbia University. She has authored two books, Waste Trading Among Rich Nations: Building a New Theory of Environmental Regulation (MIT Press, 2000) and The Environment and International Relations (Cambridge University Press 2009, currently in preparation for 2nd edition). She has published in The Annual Review of Environment and Resources, International Studies Review and Global Environmental Politics, among other venues. Professor O'Neill has written and spoken widely on global environmental governance and international organizations, on environmental and other social movements, on methods and research design, and on the global political economy of wastes. She teaches courses on international environmental politics and movements, and has supervised Ph.D students on a wide range of interdisciplinary global research topics. She is also co-editor of the MIT Press journal Global Environmental Politics.
May 2014 Visiting Professor

Dr. Shanti Gamper-Rabindran
Dr. Shanti Gamper-Rabindran came to the Arava Institute from the University of Pittsburgh, where she is an Associate Professor at the Graduate School of Public and International Affairs and the Department of Economics. Dr. Gamper-Rabindran's research focuses on the empirical evaluation of environmental policies, and looks into how best to reduce risks in the chemical manufacturing sector and remediate hazardous waste sites.
Student Testimonial
"The Arava Institute often hosts visiting professors from Israel, the Palestinian Territories and international locations to lecture or give a workshop. I was fortunate to be able to attend a workshop given by Dr. Shanti Gamper-Rabindran, an Associate Professor in Public and International Affairs and Economics at the University of Pittsburg. Dr. Gamper-Rabindran gave a workshop on methods for program evaluation, specifically how to discern the effect of a program on observed outcomes.  Since my work at the Center for Trans-boundary Water Management at the Arava Institute involves proposing and implementing off-grid wastewater treatment systems in the West Bank under USAID, the methodologies Dr. Gamper-Rabindran discussed will be directly applicable to our work and will help improve the effectiveness of our efforts. Since my education and work background is in hydrologic science, this framework to conceptualize and evaluate the impact of the programs provides me with a crucial tool to improve the role of science in informing the design of social programs and development of policy. While Dr. Gamper-Rabindran was visiting, I also had the opportunity meet with her one-on-one to discuss my research interests and her field of expertise, which was an invaluable opportunity to forge cross-discipline professional connections."
− Tamee Albrecht, Arava Institute Intern Spring '14 & Fall '14
About Bley Stein
Bley Stein grew up in Demopolis, Alabama and moved to California at age 18 to attend UCLA.  He was active in college life and became president of a Jewish Fraternity at UCLA in 1926 called Pi Lambda Phi.  Following his graduation from college in 1928, he was involved in various businesses including the auction business and later the real estate business.  He eventually established a real estate company called Century Properties and later opened a bank in west Los Angeles, Century Bank.  He was active in Jewish philanthropy in Los Angeles and raised money through Jewish organizations during WWII in an effort to help fund the exodus of Jews from the European war zone, he acted as a sponsor for a family from the "Free State" of Danzig, now Gdansk, Poland, which allowed them to immigrate to the US during the war.
About Dr. Ron Stein
Dr. Ron Stein, born and raised in Los Angeles, CA, has practiced internal medicine since 1962. He has also held a number of teaching positions, including his current position as Professor of Medicine at the University of Southern California School of Medicine. Dr. Stein is a generous supporter of the Arava Institute and Jewish National Fund. He is funding the Visiting Professorship in honor of his late father, Mr. Bley Stein, who was a businessman and philanthropist in Los Angeles.