Dear (firstname,fallback=Friend),
In the midst of the news over the past month, we continue to be inspired by our students, interns, alumni, and broader community who choose to engage in dialogue working towards peace. The Arava Institute has made slight adjustments to the programming, such as the delay of the Peace-Building Leadership Seminar trip to Jerusalem in October, but for the most part life continues onward. There have been several exciting developments at the Arava Institute, including a new Renewable Energy Workshop and a new grant for the Center for Transboundary Water Management – read below for more!
We are currently accepting student and intern applications for the Spring 2016 academic semester so please don't hesitate to be in touch to learn more.
Sincerely,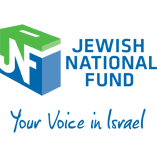 Colleen Yout
Director, University and Alumni Relations
Off-grid Food Energy and Water solutions(OFEW-Solutions)
We are pleased to announce that the Center for Transboundary Water Management (CTWM) was recently awarded a grant by the USAID Conflict Management and Mitigation (CMM) program. This three-year project will address the need for conflict mitigation with respect to environmental management between Israel and Palestine. The project will engage students, technicians, community leaders, and decision makers in the implementation of nexus, connected, off-grid, integrated water-energy-food systems. People-to-people activities are designed around bringing conflicting parties together over shared resources, and will include training and capacity-building workshops to find local solutions to shared resource needs. The projects' activities include trainings on solar energy powered grey-water system construction and maintenance; educational tours for students and technicians on local water, food, and energy solutions; and government outreach events. The program − targeting women, university students, community leaders, educators, technicians, and decision makers − will work to improve perceptions of "the other" over conflicted transboundary environmental resources through locally implemented solutions. Project activities will take place in Israel, the West Bank, and the Gaza Strip.
Renewable Energy Workshop

On November 1st, the Arava Institute unveiled the new Renewable Energy Workshop, which was established as a facility for students, interns, and faculty researching solar panels and more. The workshop dramatically expands the scope of research and experimentation at the Arava Institute and enhances the Center's position as a leader in off-grid, small-scale technologies for rural and marginalized communities. The Renewable Energy Workshop was made possible by the generous support from Robert and Carol Deutsch, Aaron Blynn, Daniel Dunn and Amy Gordon.
Inspiring 2015 Israel Ride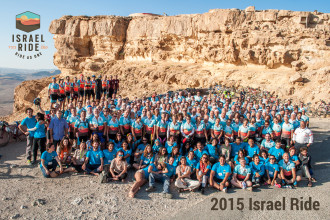 On the Israel Ride, which took place from October 27th through November 3rd, 162 riders pedaled their way from Jerusalem to Eilat, raising over $600,000 for the Arava Institute for Environmental Studies and their partner, Hazon. Along the route these enthusiastic cyclists rode through the Jerusalem Forest and into the heart of the Negev Desert; visited Kibbutz Ketura, the home of the Arava Institute; and cycled through the Eilat Mountains to the shores of the Red Sea.
Words by Jack Platt
At the closing ceremony, Board of Trustee Jack Platt shared some words of inspiration with us. This was Jack's ninth ride but his first while on dialysis. His words below have inspired us all to pursue our dreams and push the limits.
"One night in May 2014, I got a call that a kidney was available for transplant in Louisville KY where I was listed. My wife and I flew there and on a Friday morning I was in the operating room. Probably not as a total surprise to Andrea, the first thing that I did on Saturday as I started to recover was to send a note to David Rendsburg that I would be joining the Israel ride in October 2014.
My last ride had been in 2010 and basically my health had prevented me from coming on the Ride again. Reluctantly I had relinquished my position as King of the back of the pack, a position that I take great pride in maintaining. I've become friends with many riders who have wanted to dethrone me as King. But it was only temporary, the king is back. I think that I've succeeded this year in setting new standards for being at the back of the pack. One day I was able to go from Tsofim to Shomrin twice in one morning and ending at the back of the pack.
Unfortunately my body didn't like my new borrowed kidney and by Labor Day of last year, I knew it wasn't going to last too long, like in a measure of weeks instead of the years that I had anticipated. I had to drop out of last year's ride and by thanksgiving I was doing dialysis again. But I started to think, if this is what life looks like, how can I have my bike and ride it too. So in my head I thought through the logi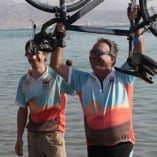 stics of getting the equipment here, how I thought I could move everything and most importantly, how I could regain and maintain my throne. And then I started to try the idea out on some people, my wife, Andrea, who said "you're nuts, I'm absolutely not going but have a great time." The doctors who looked at me like I was from another planet. And I ran this by Kevin, my oldest son,  who said "great when do we go." Then I ran it by David Lehrer, of the Arava Institute, who didn't say no but did insist that I get a car and driver to move the equipment. And I want to give an immense thank you to David, Tali, the ride coordinator, and all of the staff for helping. And especially to Ya'ara who drove the equipment and me. She had to go back to medical classes when we got here. So here I am, almost two weeks away from home and still standing. I had hoped to have ridden more kilometers than I have this week but I got in as many as I could.
I have made new friends, I have done almost all of my favorite downhills, because Gravity is a great friend, in my mind better than the uphill. Kevin and I have had a great time together and I would highly recommend doing this ride with a child, a grandchild for the memories that you'll have.
But why would I really do this crazy thing, because the Arava institute has become that important in my life and my family's life. Over the past ten years we have watched the Machon grow. More importantly, we've watched students who we've met and hosted, grow into their professional life in ways they couldn't imagine. We've seen the technology that has come out of the Institute become real. And it makes my family proud to have contributed in a small way to the success of the Machon.
Many of you have told me how amazing, brave and crazy I am to attempt this and I appreciate this so deeply that you cannot believe. However I looked at this a little differently, I have to try to live  my life as best as I can. Ya'ara analogies this in a bigger way and said that this was inspiring to her but that it was as inspiring to her that we came to Israel in this difficult time to support Israel. To Ya'ara we are all heroic to the State of Israel.
To conclude, I would ask you to support the Arava Institute and or Hazon if they have resonated with you and now that I know how to do this, I'll be at the back of the pack next year, machine or no machine, the king is back."
JNF Expanded Partnership


We are proud to announce an expanded partnership agreement between the Jewish National Fund (JNF), the Arava Institute for Environmental Studies, and the Friends of the Arava Institute (FAI). By enhancing cooperation, FAI's goal is to achieve even greater success around fundraising in support of the critical work of the Arava Institute.
Since 2002, the JNF has partnered with the Institute and raised over $4 million in general, research and scholarship support, as well as funded the construction of student dormitories, academic and research offices, and a new research laboratory.
FAI looks forward to working with JNF to achieve increased fundraising outcomes, so the Arava Institute can realize its vision of creating a sustainable and peaceful Middle East.
To learn more about how to make contributions to the Arava Institute, through the JNF, please contact Senior Development Officer, Sarah Rubin at sarah@friendsofarava.org.
Visitors to the Arava Institute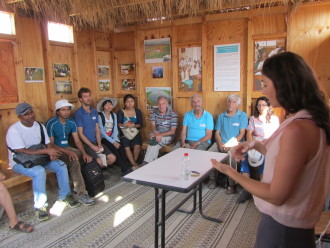 The Arava Institute has been bustling with visitors over the course of the past month. The visitors toured the Arava Institute campus and research facilities, including the Off-grid Technology Hub; met with researchers and staff; and heard from students about their experiences studying and living in a multicultural environment at the Institute. Here are some key highlights.
Ambassador Lars Faaborg-Andersen, Head of the Delegation of the European Union to the State of Israel, and his wife.
Delegation from CNA – the Brazilian Confederation of Agriculture and Livestock, lead by Mr. Nelson Ananias Filho who is the sustainability coordinator of national environmental commission, water resources and irrigation.
Erik Michaelson, the CEO of the Jewish National Fund (JNF).
85 students, staff, and faculty from the Agriculture and Biotechnology Department at Ben Gurion University in Sde Boqer.
Paul Enrique Pangoni, President of CASEM (Argentinean Chambers of Seeds Producers), and Mateo Luis Barcelo, Manager of La Union Ltd., hosted by the Arava Institute's Center for Sustainable Agriculture.
Agricultural Cooperative, as an official agricultural delegation from the Government of the Province of Santa Fe in Argentina.
GIZ (German Association for International Cooperation) delegation from Uzbekistan and Kirgizstan, organized by the Foreign Ministry.
Israeli artist, Orlee Malka.
Dr. Jawad Hassan from Al-Quds University.