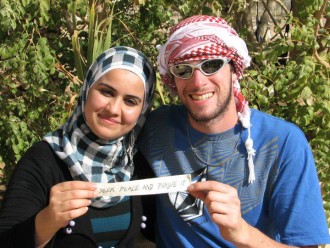 Dear Friend,
Interested in peace-building and environmental leadership in Israel? There is still plenty of time to apply for the 2015-2016 academic programs at the Arava Institute of Environmental Studies. 

The Arava Institute offers accredited university-level semester or year long programs for undergraduate and graduate students. Take courses in diverse environmental fields, engage in a peace-building and environmental leadership seminar, and partake in educational field trips — all with a diverse student population hailing from Israel, Palestine, Jordan, and beyond.
At the Arava Institute, students participate in the most open, honest, and sustained conversation happening in the Middle East. We offer an exceptional interdisciplinary environmental education that combines natural and social science with conflict mitigation training.  At the Arava Institute students learn the essential skills required for becoming future environmental leaders and peace-builders.
Our alumni include entrepreneurs, educators, activists, and more. The Arava Institute prepares students for careers in nongovernmental organizations, civil service, and environmental industries by offering professional development opportunities, career relevant courses, and a connection to our vast and committed alumni network.
Please do not hesitate to contact me directly if you would like to learn more about our academic programs.  I hope you will consider passing along this information about the Arava Institute, and thank you.
Sincerely,



David Fisher
Community Outreach Manager
Friends of the Arava Institute