Dear (firstname,fallback=Friend),
Interested in peace-building and environmental leadership in Israel? There is still plenty of time to apply for the 2015-2016 academic programs at the Arava Institute of Environmental Studies. 

The Arava Institute Study Abroad Program is an accredited university-level program for undergraduate and graduate students. For one or two semesters, students engage in an interdisciplinary program comprised of courses in diverse environmental fields, a peace-building and environmental leadership seminar, and educational field trips.
Last fall, the Arava Institute brought together 45 students from across borders, dedicated to sustainability, cooperation and entrepreneurship.  Currently there are 31 students, 13 interns, and three Program Associates hailing from Israel, Jordan, Palestine, Morocco, Ecuador, Argentina, Canada, and the United States.  To follow the current news of the Arava Institute, like us on Facebook, follow us on Twitter, and check out our Blog.  Read below for some stories about a couple of our alumni and their exciting work.
Jordanian Alumnus Fights Terror with Comic Books
Suleiman Bakhit, an Arava Institute alumnus from Jordan, counters terrorist propaganda with Arabic comic books. Suleiman observes that much of the propaganda put out by groups such as ISIS and Al-Qaeda create hero mythologies. By developing  alternative hero myths, Bakhit seeks to transform youth culture and steer it away from extremist ideologies.
More than 1 million copies of his books have been distributed through Jordanian schools and Bakhit's groundbreaking work was recently profiled in a December article in the New York Times.
Spreading Our Message Across America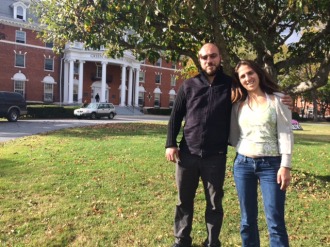 Last fall, a Jordanian, an Israeli, and a Bostonian went on a road trip. Though it sounds like the set up for a joke, this tour had a serious mission – to spread the Arava Institute's message that nature knows no borders. From Cleveland to Boston, Vermont to New York, campus to campus, these three Institute alumni traveled to 14 colleges and met with dozens of faculty and hundreds of students.
The alumni spoke about their academic research and personal efforts to bring people together through a collaborative lens. Asem, from northern Jordan, shared his experience about creating links with Jordanian and Israeli researchers to assist in writing the article "In the Eye of the Stakeholder- Changes in Perceptions of Ecosystem Services Across an International Border." Hagar, from central Israel, spoke about the ecological assessment she participated in and how her research was used to advocate for environmental conservation in public policy. Both shared about their personal journey to the Institute and the challenge and growth of living and working in a diverse community of Israelis, Arabs, and international students. The two travelled with David Fisher, also an alumnus of the Institute and Community Outreach Manager at Friends of the Arava Institute in Boston.