One week in May!
As Kayla and I finalize this month's blog and try to get it out before Friday, it is the end of an exhausting and action packed week at the Arava Institute.  On Sunday, the the Academic Program held  AIES night in which students presented their independent study and Masters research projects from studies of cancer fighting plants to trans-boundary river basin restoration.  The Institute hosted a JNF Academic Tour which included professors from 10 universities accross the US. On Wednesday night the MASHAV course (see below) held Culture Night presenting cultures from the 14 countries represented in the program.  On Friday, the Youth Enviromental Education Peace Initiative Team (YEEPI) from Sachnin, Kiryat Shmona, Kibbutz Lotan and Kibbutz Ketura is convening to build its 5 year strategy for growth.  With a visit from the Indian Ambassador to Israel, a delegation from Columbia University's Earth Institute and a public meeting on the planned train to Eilat held at the regional council and jointly sponsored by Green Course and the AIES all scheduled for this coming Sunday, next week is not shaping up to be any more relaxing.  David Lehrer
Students Learn "Dual Narratives"  of the Conflict on Trip to Jerusalem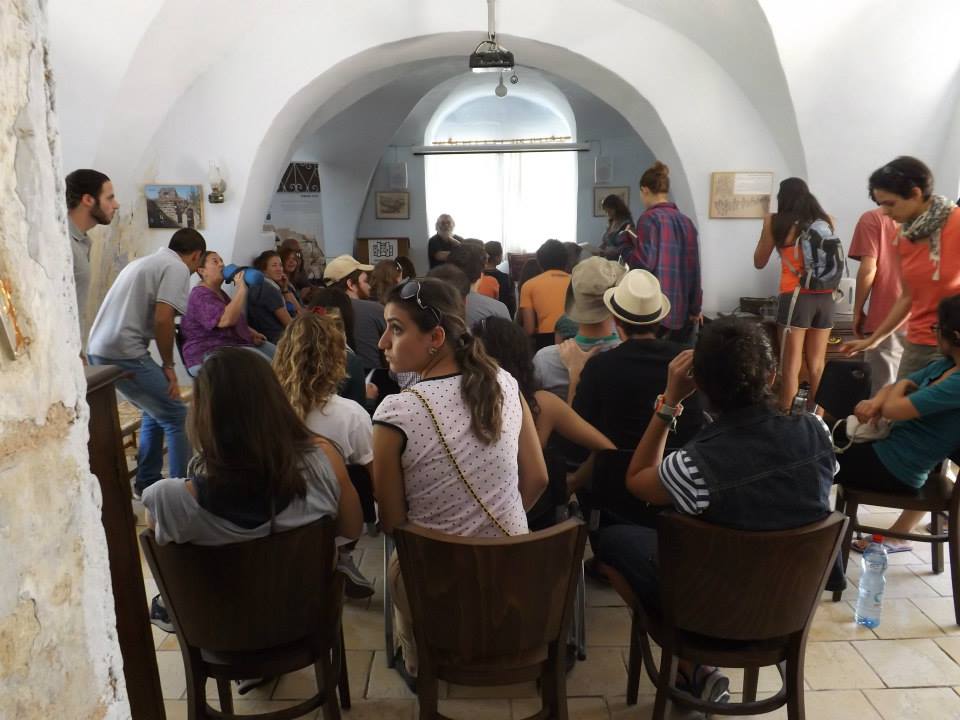 —The PELS Dual Narratives Trip brings the theory, perspectives and stories students have learned throughout the semester into practice, touching upon themes of identity, memory, trauma, empathy, and reconciliation. The trip began on May 8th, when the group met with the Parents Circle-Families Forum and Combatants for Peace, two NGOs that promote reconciliation to break the cycle of violence. After the talk, we drove to Lifta, an Arab village which was depopulated after 1948. Umar Ighbarieh, a guide from the NGO Zochrot gave us an overview of the history of the village, and discussed how it is an essential part of Palestinian history, but is nonetheless not marked on any maps, nor commemorated as a heritage site. We walked through the village and saw a town which had been abandoned; beautiful, Arabic-
style buildings were left as they had been before 1948, and wide open spaces showed the space where demolished buildings once stood.  The AIES alum Kfir Kol then guided the group on bike ride from Lifta to Ein Kerem. On the second day of the trip, we went on a guided tour of Yad Vashem, the world center for the documentation, research and commemoration of the Holocaust. After the tour, participants reflected on the things that they had seen and heard over the past two days. For many students, this was a deeply emotional experience which touched on their own family histories and raised many ethical questions  Afterward, at the Max Rayne Hand in Hand Bilingual School for Jewish Arab Education, participants learned about a school which brings together Arab and Jewish students to study together from an early age. A few days after the trip, the students shared what they had taken out of it – their thoughts on whether or not the organizations we visited constituted "normalization," the need for recalling and recognizing the suffering of the other, and the question of how large-scale change can be made – and if it can, what is their role?  Submitted by Michelle Shachar and Abra Berkowitz 
Arava Institute Alumni Gather In Beit Jala For Annual Conference 2013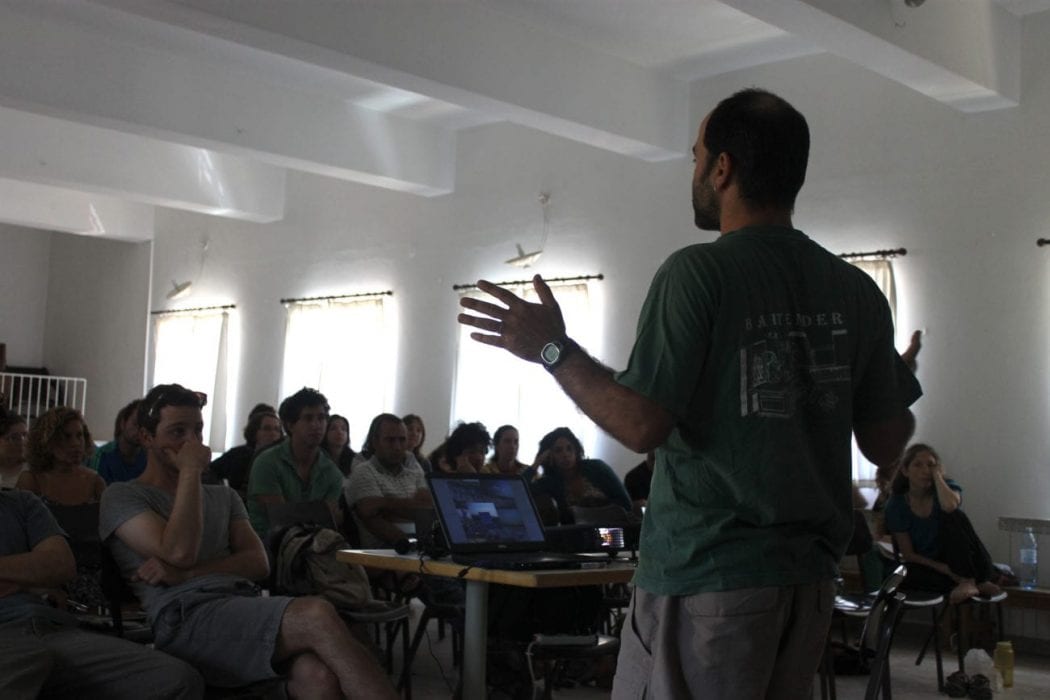 On the weekend of Thursday, May 9th through Saturday, May 11th, 2013 over 100 alumni and associates of AIES attended the annual two-and-a-half day conference coordinated by the Arava Alumni Peace and Environmental Network (AAPEN.) The alumni, staff members, current students, and guests gathered at Talitha Kumi School and Guesthouse in Beit Jala, outside of Jerusalem, in an area accessible to both Palestinians and Israelis. The weekend provided the opportunity for alumni from various years of study to network, learn about each other's work, meet new people and maintain and strengthen already established relationships and partnerships. Conference sessions included presentations of current alumni projects, a tour of nearby al-Walaja village, open space discussions, project planning, and group formation for committed project implementation. A number of exciting new projects emerged including a proposal to create an opportunityfor service and development work abroad and a plan to organize an alumni collective to engage in non-violent social activism to end to the current political stalemate. The conference was organized by a team of alumni and made possible through a generous grant provided by the Miller International Institute of the Rutgers School of Law in Newark, New Jersey an important partner for support of the AIES alumni activities. Dates have been set for several future gatherings of alumni that will be educational, political, and environmental in nature including an upcoming tour in June 2013 of the Silwan neighborhood in Jerusalem complimented by a hands on workshop for learning about the legal implications of participating in peaceful protests and direct action.  Submitted by Lindsey Zemler
YEEPI Conference Gathers Participants and Ambassadors in Sakhnin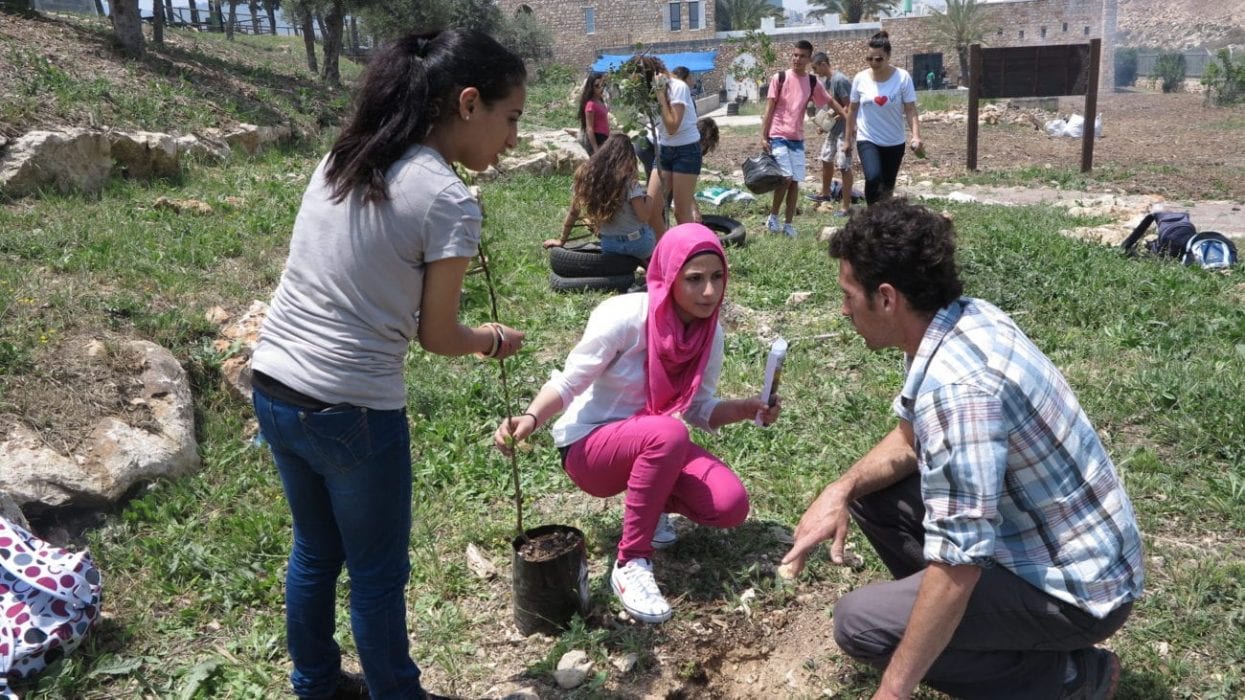 On a beautiful morning in early May, students and teachers from ten Arab and Jewish Israeli high schools gathered to summarize and celebrate this year's environmental and multicultural activities they completed as part of the Youth Environmental Education and Peace Initiative (YEEPI).  The conference took place at the Towns Association for Environmental Quality (TAEQ)  in Sakhnin, and the schools were joined by representatives of the US Embassy. The day opened with students from all schools speaking about their experiences during the year so far, and their hopes for YEEPI in the future. The day's agenda also included explanations of green building, preparation of solar cookers, explanation on purification of sewage, and planting trees. After lunch, the students started a session of traditional dances from their respective cultures and each school received a participation certificate for participation in YEEPI this year. Dr. Gonen Sagy, Director of YEEPI and Arava alum,  said that the conference was "an excellent opportunity to bring communities in Israel together. Students and teachers at YEEPI schools are doing remarkable, courageous work with the guidance of the YEEPI Leaders. This is an great opportunity for students and teachers to see that they are not alone. We thank them for the confidence they have in us." Submitted by Dr. Gonen Sagy
MASHAV Participants Arrive at Arava Institute on Kibbutz Ketura for a Course in Renewable Energy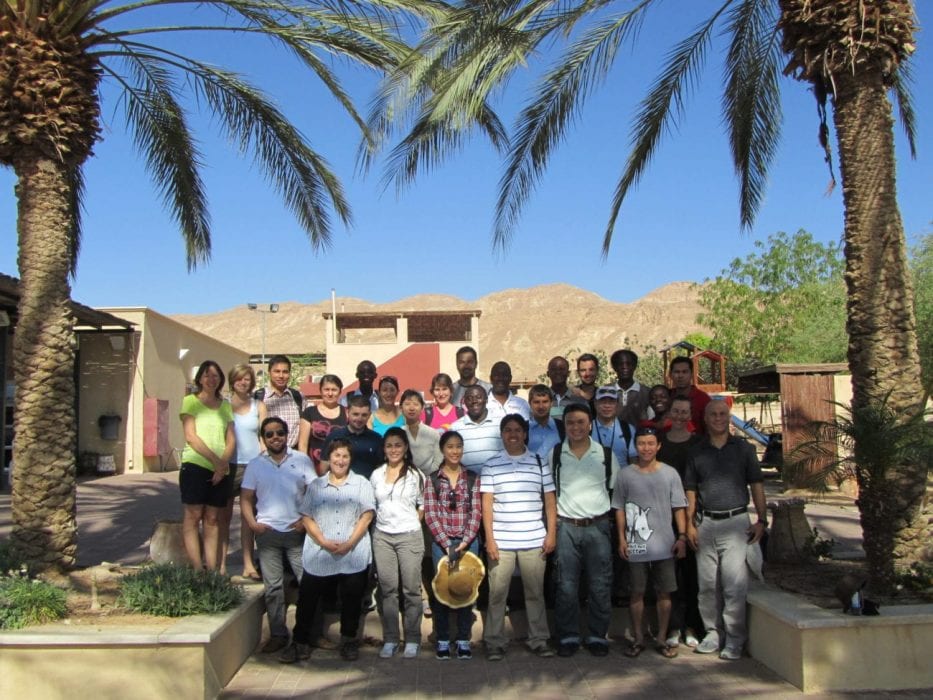 On May 20th, 24 professionals from 14 different countries arrived at the Arava Institute to study "Renewable Energy as a Catalyst for Sustainable Development."  This two-week long course is sponsored by MASHAV, Israel's Agency for International Development Cooperation. The group includes professionals from  academia, government, civil society and the business sector.  The course looks at renewable energy in Israel, renewable energy policy and how to apply lessons learned in Israel back in their home countries. Countries represented include Ghana, Colombia, Vietnam, Serbia, Georgia, Kenya, Nicaragua and many more. The program includes lectures by AIES faculty members;  Dr. Tareq Abu Hamed, Dr. Shmuel Brenner, Dr. Ilan Stavi, and visiting lecturers Dorit Banet of the Hevel Eilot Renewable Energy Initiative.  The group will travel in the Arava region and throughout the country, including a weekend in Jerusalem. A big thanks goes out to AIES staff members Tali Adini and Abby Lutman whose hard work made this program possible. Submitted by Kayla Santosuosso 
Intern Profile: Shae Selix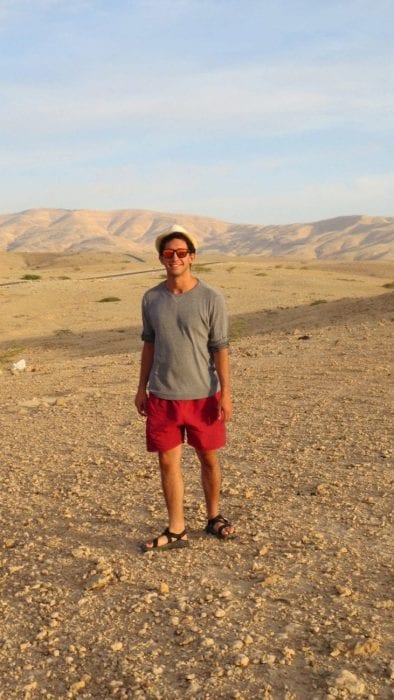 This month we bid farewell to Shae Selix, who  served as an intern with the Arava Institute's Center for Trans-boundary Water Management (CTWM) for the last six months. Shae worked on the Hebron-Beer Sheva-Besor river restoration project. He collected data on the hydrology of the watershed and on the socioeconomics of the communities within the watershed, both Israeli and Palestinian. Shae then integrated this  data into a series of GIS maps and incorporated them into a website. The website will be used to engage with stakeholders within the watershed.  We are proud to say that upon returning to the US, Shae will begin a Master's program in Public Health at Yale University, beginning in the fall. Congratulations, Shae! You will be missed. Submitted by Dr. Clive Lipchin
Join the Arava Institute and Hazon Israel Ride: October 29 – November 5, 2013!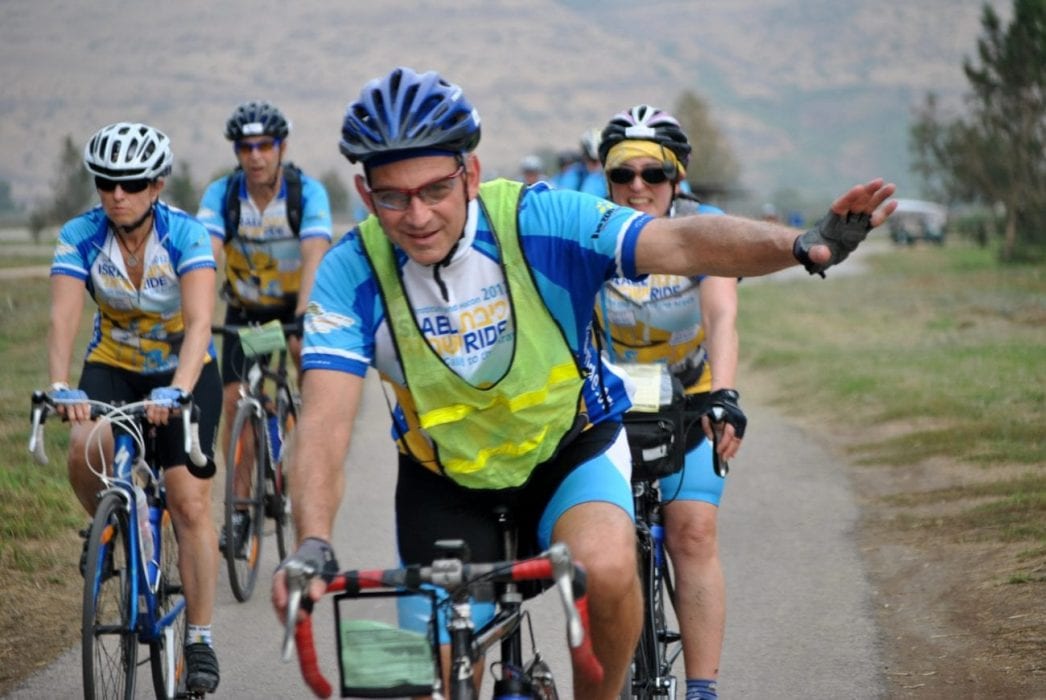 Preparations are well underway for the 13th Arava Institute Hazon Israel Ride. As of the writing of this bog, we have 116 riders registered.  The ride staff is hard at work booking support staff, busses and meals, hiring the crew, and finalizing routes. This year the route we have chosen is the "Classic Route" – Jerusalem to Eilat via Beit Guvrin, Ashkelon, the Negev Highlands, Mitzpeh Ramon and Ketura.  The highlight of the ride is, as always, an evening with the staff and students of the Arava Institute.If you are still thinking of joining the ride, now is the time to register and start training. Visit: http://www.hazon.org/programs/israel-ride/ Submitted by Tali Adini, Israel Ride Director