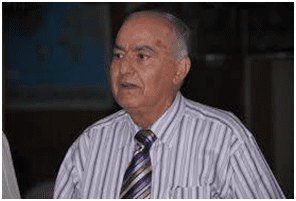 We dedicate this month's Director's Blog to Mahmud Diab, our friend and Arava Institute Board member who passed away on September 3rd.  Mahmud has served for several years on the Arava Institute's Board of Directors.  Mahmud Diab was the retired Supervisor for the Arab Sector of the Northern District of the Ministry of Education. In the past Mr. Diab held many positions in the Ministry of Education including adviser to President Yitzhak Navon when Mr. Navon was the Israeli Minister of Education. Mahmud had a close relationship with Yigal Alon and Prime Minister Yitzhak Rabin. Mr. Diab also spent part of his career in Tel Sheva, a Bedouin village outside of Beer Sheva where he supervised the Bedouin school system.  Mr. Diab was a true friend and supporter of the Arava Institute, involved in meeting students, helping to recruit Arab Israeli students and supporting the establishment of our Public Council in Israel. He was an example of personal commitment to education and peace. His unique ability to bring people together will be truly missed.  Mr. Diab is survived by his wife Lutfia, four children and grandchildren.  As we move forward we will recall his commitment to the vision of the Arava Institute and draw strength.
The semester has yet to begin and we are already off and running, introducing new staff and MASA students from North America at the Arava Institute, new greywater recycling technology in the Galil and scorpion identification techniques  in the Arava Valley (I guess when you get stung by a scorpion, it is important to know its Latin name).  In addition to the these exciting events, this month the members of Kibbutz Ketura along with family and friends celebrated the Jewish High holidays.  This is traditionally a time for reflection about what was and pondering on what will be.  For the Arava Institute it has been an exciting and sometimes turbulent year.  We are looking forward to the coming year with excitement and high expectations.  Our thoughts and prayers continue to be with the Syrian people and all those suffering from oppression, violence and insecurity around the world.  May 5774 finally be the year of peace and sustainability for which we have prayed.
David Lehrer
The Center for Renewable Energy and Energy Conservation (CREEC) Welcomes a New Director and Lecturer
Dr. Mahmoud Huleihil, the new Director of the Center for Renewable Energy and Energy Conservation (CREEC) at AIES, has taught and researched thermodynamics, passive solar building, and windmill efficiency at Ben-Gurion University. Mahmoud received his B.S.c, M.S.c, and PhD from BGU, with his PhD focusing on optimizing the efficiency of heat engines. Mahmoud has published extensively in Arabic, English, and Hebrew on the issues of efficiency regarding heat and energy transfers in a variety of renewable energy models, and has presented throughout the world on these topics. His teaching experience also includes years of instruction at various Arab high schools throughout Israel,  as well as Beit Berl academic college and the Sami Shamnoon college of Engineering in Ashdod. Mahmoud is originally from Akbara-Safad, Israel, and currently lives with his family in Beer Sheva.
Dr. Hezi Yizhaq, the new CREEC researcher and Lecturer, has a Ph.D in Physics from the Ben-Gurion University of the Negev. He is a researcher at the Department of Solar Energy and Environmental Physics at the Blaustein Institutes for Desert Research in Sede Boker. His research is mainly on mathematical modeling of aeolian sand ripples and sand dunes on Earth (Nahal Kasuy, Nizzana dunes and wind tunnel experiments) and on Mars, dunes mobility under climate change and on modeling of vegetation patterns in water limited systems. Hezi is also a high school physics teacher in the Environmental High School in Midreshet Ben Gurion since 1990. During these years he developed few unique programs like teaching physics by riding a bicycle and using solar energy for cooking.   Hezi has received several awards, including the Excellence physics teacher in Israel for 2011 and Distinguished Fulbright Awards in teaching in 2012.  He is also an enthusiastic mountain rider who led expeditions at most of the world's deserts (including the Tibetan Plateau and Namib desert). Hezi was born in Bat Yam and moved to Midreshet Ben Gurion in 1990. He currently resides there with his wife and three children. At AIES Hezi will teach the course Environmental Science and will work on research in renewable energy and on aeolian geomorphology at Nahal Kasuy and Samar dunes. More information and some of his publications can be found in http://biking.boker.org.il/
5 Students and Interns on MASA Scholarship Arrive to Institute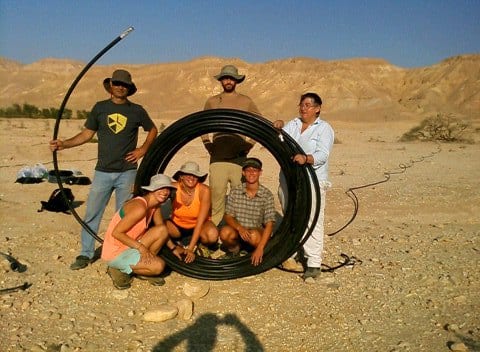 "Efshar melech?" Natasha asked for salt in Hebrew, as we sat for an interview over lunch. Natasha is one of five participants of the MASA scholarship program, who arrived two weeks before the semester to learn Hebrew. The scholarship requires participants to take 60 hours of Hebrew class during their stay in Israel, and the program at AIES allows participants to attend seminars on this month's Jewish holidays and speak with local residents about kibbutz life.
Natasha, 23, arrived last week to the kibbutz from Atlanta, Georgia. After studying international politics and Jewish studies, Natasha has come to intern with Clive Lipchin, as well as assisting in the Environmental Ethics class. When asked about the MASA program, Natasha explained, "David (their Hebrew teacher) challenges us individually, at each of our own levels. We are progressing quite rapidly." Natasha said the hardest thing about learning Hebrew is being patient and trying not to rush it. This is particularly hard with six hours of lessons each day. Natasha continued, "the most satisfying part of Ulpan is that it enabled me to be confident speaking Hebrew; I've been able to communicate with people on the kibbutz." To finish the interview, I asked Natasha for the highlight of her first week and she quickly responded, "the moonlight hike." For Natasha, the MASA program as a whole has helped make the transition to Israel easier, and has allowed her to get to know her peers, the language, and the kibbutz on an intimate level. "It's a great step one!" Submitted by Aviva Gottesman
AIES Center for Long Term Socio-Ecological Research Attends Scorpion Workshop: 
This month, Elli Groner and his research intern Tara Gron attended a four day scorpion workshop held by the Israel Taxonomic Initiative (ITI) in the Sde Boker campus of Ben-Gurion University. The instructor, Lorenzo Prenini, is a curator and professor at the American Museum of Natural History in New York. There were twenty students in the class who represented a wide range of professional backgrounds. Lectures consumed the days and excursions around the region filled the evenings as the class hunted with UV flashlights to find these nocturnal species. Elli and Tara learned how to comprehensively identify the 19 scorpion species of Israel and the 10 species that are specialized to the desert and Arava valley. Tara will incorporate this new skill set in multiple ongoing and future projects regarding the food webs of hyper-arid desert ecosystems. Submitted by Tara Gron
 Meet Our New Program Associates!
Program Associates (PAs) are a central part of the Campus Life experience for students and interns, doing everything from developing programming to conflict mediation. PAs serve for one year as part of the Institute staff, living among the students and interns. Meet our motivated and impressive PAs, Asem Magableh and Aviva Gottesman, who just arrived!
My name is Aviva Gottesman, I am from the United States, specifically from Vermont. I just completed a B.Sc. in Natural Resources with a focus in Community-Based Resource Management from the University of Vermont. This degree allowed me to spend my junior year at the Arava Institute, creating a unique, trans-boundary, inter-disciplinary undergraduate education. Whether studying forests or deserts, I enjoy understanding the ecology around me. Besides ecological relationships, as a Program Associate I have the opportunity to help support campus relationships. I am excited to return to the Arava Institute to continue to navigate the challenges of politics, environment, and spirituality; and to build a community of change-makers from every corner of the world. Some programs I am interested in sharing with the campus community: poetry, improvisation, yoga, hiking, and art.
Hi my name is Asem Magableh and I am 26 years old, from Jordan.  I was a student at the Arava Institute two years ago and then came back as an intern for the Center for Long Term Socio- Ecological Research. My time at the institute has allowed me to develop educationally, academically and socially. I am excited to be a Program Associate this year and to be part of a cooperative community that brings students from different cultures to study and live together so that we can learn to understand each other through peace building and environmental cooperation.
 Submitted by Kayla Santosuosso
New Greywater System Established at the Towns Association for Environmental Quality at Sakhnin in the Galil by the AIES Center for Trans-boundary Water Management (CTWM)

The second Greywater treatment system has been successfully implemented in Sakhnin by the Towns  Association for Environmental Quality (TAEQ). This is the first of six USAID funded systems which will be implemented as part of the Mitigating Trans-boundary Wastewater Conflict project. Following the successful implementation, the CTWM team had a very fruitful meeting with the Palestinian project partner; the House of Water and Environment, from Ramallah and Engineer Shlomo Kimchie. They were all hosted by the TAEQ staff. The meeting allowed for a very productive conversation regarding the design of the subsequent systems and further understanding of the unique, appropriate system design developed by the project. In Sakhnin two alternative treatment models will be studied, compared and evaluated. After a year and a half of USAID funded transboundary wastewater workshops, the project has now moved into the implementation phase. Six greywater systems will be built, four in Palestine and two in Israel. The project team is working hard towards the detailed household design of the next system in Halhul, Hebron region. We look forward to continued implementation in the Nablus and Hebron regions. Submitted by Shira Kronich