The weekend before I left for a two and a half-week fundraising tour of the US, I attended the Arava Alumni Peace and Environmental Network Conference at Givat Haviva along with 120 alumni of the Arava Institute. It was a moving weekend and gave me the energy and the inspiration to go to the US and tell the story of the Arava Institute alumni, the brave heroes who cross borders and check posts, who swim against the stream and who stand up to the negative forces in the region in order to shape a more peaceful and sustainable Middle East.  A few weeks later during my fundraising trip, at a ceremony hosted by Drew University, honoring the Arava Institute's peace building efforts, I was privileged to meet another hero, BlinkNow founder and CEO, Maggie Doyne.  Maggie and the Arava Institute were honored by the Drew University's Center on Religion, Conflict and Culture at their 2nd Annual CRCC Gala Dinner Drew University CRCC.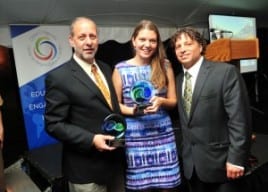 Peacebuilder Award recipients David Lehrer of the Arava Institute for Environmental Studies, left, and BlinkNow founder and CEO Maggie Doyne, center, with CRCC Acting Director Jonathan Golden, right.
It was a great honor and a bit humbling to stand on the stage next to Maggie, a CNN Hero.   At 22 years old, after college, while backpacking in Nepal, Maggie became committed to helping Nepal and its many children orphaned by the ongoing civil war. Maggie took $5,000 she had saved up from babysitting money and bought a building that became an orphanage. She raised more money, to adopt and raise 50 orphans.  She created a foundation, BlinkNow, and has now established a local school with 350 children, the first school in the region to ban corporal punishment. 25 other Nepalese schools in the region have followed suit. Today, Maggie is CEO of BlinkNow and runs an international staff of over 70.  Maggie is 28 years old.
Arava Alumni Peace and Environmental Network (AAPEN) Conference
Every year in the holy land, away from political tensions and religious struggles, a group of Arava Institute alumni meet with the hope to advance change. I am proud to say that I am a part of this community. This year the Alumni Conference attracted around 120 alumni from Jordan, Palestine, Israel and even the UK to gather at Givat Haviva, an educational seminar center near north of Tel Aviv.
The welcoming keynote speech was given by Ayman Odeh, head of the Joint List, a coalition of four Arab political parties in the Knesset. He spoke about the recent elections, his plans for the upcoming year, identity issues and also the challenges of Jews and Palestinians living together in Israel. The speech spurred numerous interesting conversations, after which we proceeded to ice breaking activities (although icebreakers are not truly necessary in this community that welcomes everyone with a genuine hug and a smile – even from people you have never met).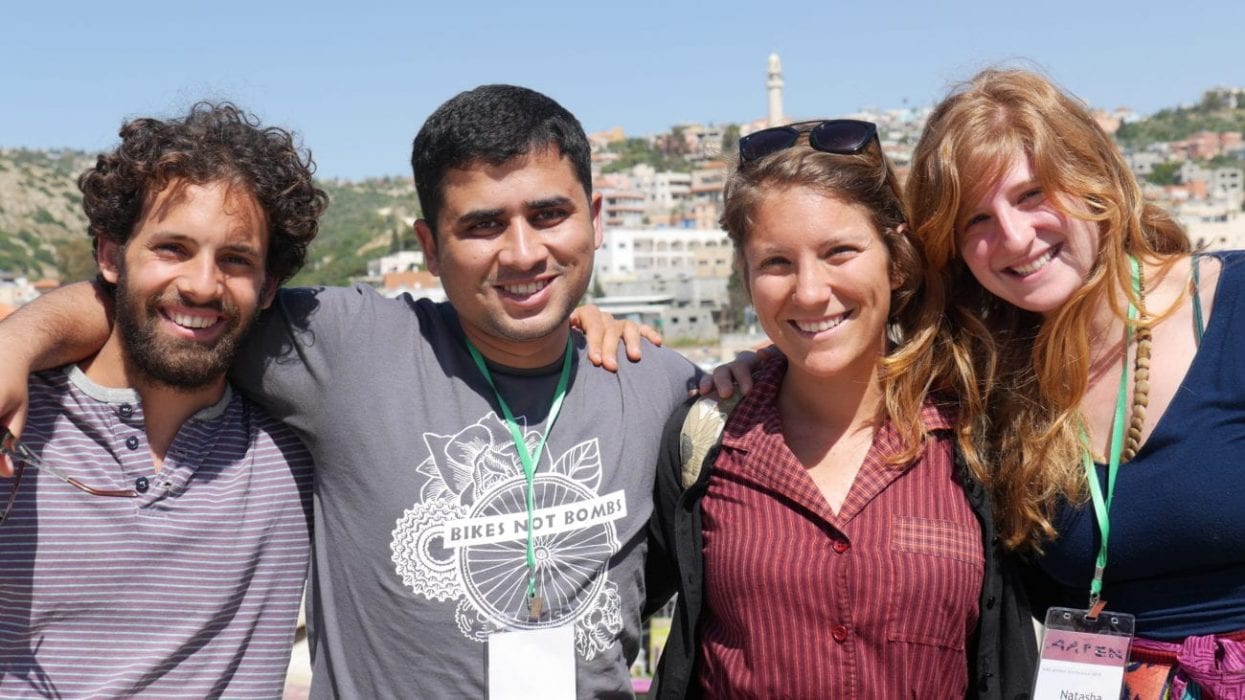 The second day featured round table discussions covering a wide variety of subjects: compatibility between environment and development, affecting change through academia, challenges of trans-boundary education, and personal experiences of the last Gaza war. I had the privilege to mediate the Gaza discussion. As always  disagreement abounded, but I continue to be impressed by our attitude, our ability to listen, to sympathize with the other, to place ourselves in the shoes of each other, not to judge but to try to understand. Sadly, a space like this where you can express yourself freely does not exist elsewhere. We all expressed our fear of the hatred and of radical views we endured while trying to champion basic human needs throughout wartime. Many alumni were cursed and attacked physically and emotionally just for expressing the desire for peace. It is heartbreaking how people forget that we are all human beings during times of stress. On the bright side, we worked to come up with coping mechanisms to deal with such traumatic events in the future. After lunch, we headed on a guided tour of Barta'a — a town located on the border between Israel and the West Bank, where family members are separated by the Green Line.
The night ended with a dance party with Arabic, Hebrew, English, and Russian music — typical of Arava Institute parties. The morning was devoted to open space activities ranging from silent meditation  to acro-yoga or a workshop on Non-Violent Communication (NVC). We ended the conference with discussions about future meetings, individual achievements, entrepreneurship, and environmental issues threatening our daily lives such as the Evrona oil spill. Though the conference is over, we remain closely linked and our planning for next year's conference has already begun.
I dedicate this article to every person who joined the conference. Our strength comes from being together… we might not change the world… but we will keep trying. We believe, we hope, and we fight with our education and our refusal to accept the way things are. We want peace and equality and real, lasting positive change!
Submitted by Leila Hashweh
MASHAV Energy Course
The Arava Institute once again hosted its annual MASHAV course, a program sponsored by the Agency for International Development Cooperation within the Israeli Ministry of Foreign Affairs. This semester's course focused on Renewable Energy as a Catalyst for Regional Development, and included theoretical and practical studies. It brought together 25 participants from 16 countries,  all professionals in energy-related fields on governmental, ac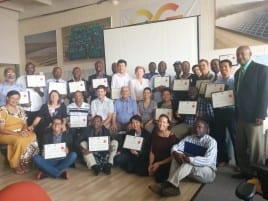 ademic, non-profit or private sector levels. The participants included engineers, policy makers and entrepreneurs from Vietnam, Thailand, India, Uzbekistan, Kenya, Rwanda, Nigeria, Ghana, Angola, Costa Rica, Guatemala, Belize, Trinidad and Tobago, St. Vincent and the Grenadines, Barbados and St. Lucia.
In addition to lectures, experiments and field trips covering bio-gas, solar thermal, photo-voltaic and wind energy technologies, the participants had frequent day-to-day interactions with Arava Institute students and interns. There was a meet-and-greet session, football matches, morning hikes and a musical culture night during which participants presented and performed narratives, songs, dances and ceremonies from their home culture to a mesmerized audience of students and kibbutz residents.
The final days of the course took place on the road, visiting the Sde Boker BGU campus, an off-grid Bedouin village, the Dead Sea and Jerusalem.
The program was a great success, with lots of positive feedback and many friendships and collaborations formed. This would not have been possible without the dedicated work of the organizing team; Dr. Shmuel Brenner, Dr. Alex Gusarov, Tali Adini, Amit Chertoff, Avi Schneider and Arieta Gonelevu-Rakai, an extra special staff member from Fiji.
Submitted by Avi Schneider
Symposium on the physical aspects and ancient populations of the Uvda Valley
Approximately 120 participants attended a symposium at the Uvda Air Force Base on May 13. The symposium featured lectures on diverse topics with noted regional professionals who addressed a diverse audience of tour guides, researchers, organizational representatives, nature conservation staff, archaeologists, military personnel and local residents. Lectures covered a myriad of topics including geology, archaeology, tourism and birding.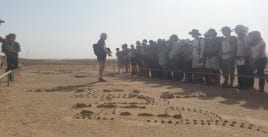 Participants were then guided through archaeological and geological walking tours of the Uvda Valley.  The tours focused on a small selection of the 750 archaeological sites in the region that document the continuous existence of a local population for the past 10,000 years. The tours were both informative and thought provoking.
"We were left with many questions unanswered." remarked one participant, "For example, what was the significance of grinding stones that were placed at the base of tombstones? Why did the Nabataeans build such a large structure in the heart of the desert? And do the ibex engraved on rocks symbolize the shape of celestial bodies at that time?"
The symposium was a product of a partnership between the Arava Institute, the Hevel Eilot Regional Council, the Dead Sea and Arava Science Center and the Nature and Parks Authority. We also have special thanks to the Israel Antiquities Authority as well as Uvda Air Force Base for hosting and Alga Technologies for their support of this stimulating event.  
Submitted by Shirley Hacham Yifrach
Center for Trans-boundary Water Management (CTWM) Stakeholder Meeting in Beit Sahour
On May 25, the Arava Institute's Center for Trans-boundary Water Management (CTWM) held a workshop for decision-makers, NGOs and private consultants from both Israel and Palestine at the Murad Resort in Beit Sahour, Palestine. The "Palestinian – Israeli Cross Border Waste Water Workshop" was sponsored by USAID and co-organized with
Ben Gurion University, the Water and Environmental Development Organization (WEDO) and the House of Water and Environment (HWE). The primary focus of the event was the presentation of student research on the quality and treatment of waste water in Israel and Palestine. It was especially significant to have experts from both regions who discussed different approaches to unresolved issues and tactics required to effectively come up with solutions. The workshop included a presentation by a Palestinian Water Authority (PWA) representative on current and future strategies of the PWA, as well as a report on the current state of affairs and future challenges. A highlight of the discussion came from a representative of the Swedish government, who challenged the group to develop strategies to wean themselves from foreign aid. Participants agreed that NGOs are better equipped than governmental departments to overcome or side-step the legal and political obstacles to development in the region.
Read more about this meeting in the Jerusalem Post.
Submitted by Gerardo Tremont
Intern Profile: Asaf Baruh
I'm from the central part of Israel (near Tel Aviv) and I'm only a few weeks away from turning 35. Although born and raised in Israel, I also spent a meaningful five year period in Colombia as a child, and returned there for a couple of years when I was about 30.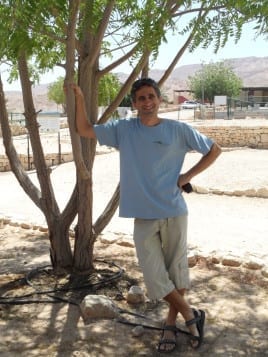 I started my career as a Spanish, Hebrew and English teacher in Israel, Colombia and Florida, where I currently reside. About a year ago I finally decided to make a career shift and started a Masters program on Global Sustainability in University of South Florida, Tampa.
I recently began interning at AIES – CTWM as part of the Decentralized Greywater Treatment in Rural Communities project in Bedouin communities. I am enjoying this work, which allows me to travel to places I had never seen before, and it is exposing me to a population which most Israelis never meet. I have been here for almost three months now, and I am very much enjoying the work as well as the chance to spend time with my family.
After the internship I will return to the Tampa Bay area where I intend to work in the field of trans-boundary water management. I have a feeling, though, that it won't be long before I return to Israel, hopefully to work on Arava Institute research projects.
Submitted by Asaf Baruh