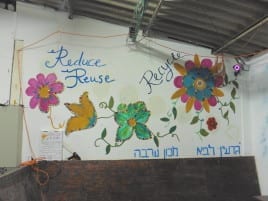 Last Thursday, students of the Arava Institute hosted an evening at the Kibbutz Ketura pub. This Eco-Pub night was organized as part of the Environmental Leadership Seminar in which the students take on environmental projects with an impact on the local community.
Two current students, Nadav Shelly and Noa Gluskinos, chose a project to engage young people from the region with environmental issues through the existing appreciation of the local pub as a favorite socializing spot. Over the past months they ran weekly environmental awareness sessions on Kibbutz Ketura for a group of young adults. In these sessions, they made recycled items to be used in the pub, such as ashtrays from beverage cans and drinking glasses from beer bottles.
The final element of the project was an open pub night for the general public, which included a lecture on "The Link between the Environment and Revolution" by Arava Institute faculty Dr. Dan Tamir, the communal creation of a wall mosaic made from bottle caps, and a fun party until the morning hours.  This event will hopefully be remembered for a long time, and Eco-Pub parties run by students of the Institute will become a tradition.
Submitted by Noa Gluskinos