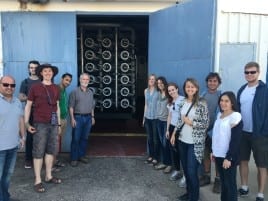 On Monday, 21st March, Dr. Clive Lipchin, director of the Center for Transboundary Water Management (CTWM), and a team of current interns and students, met in Tel Aviv with Dr. Alex Slocum from MIT, Prof. Jacob Karni of the Weizmann Institute, Dr. Avi Kribus of Tel Aviv University (TAU), and Dr. Gershon Grossman of the Technion in Haifa, as well as students from each institution. This meeting was the first step in a proposed project that could simultaneously provide fresh water, energy, and tourism for the growing southern region of Israel and Jordan. The project, Advanced Pumped Hydropower Reverse Osmosis System (APHROS), is studying the feasibility of building a reverse osmosis desalination facility with a pumped hydropower facility with a storage reservoir in the mountains around the Aqaba-Eilat region.
Both Aqaba and Eilat are growing cities, with a combined population of around 200,000 people. While each city has enough water to supply its current population – Aqaba receives water from the Disi aquifer, and Eilat desalinates 100% of its water – there are concerns that current supplies may not be sufficient in the future. While there are already plans to address the increasing water demand in Aqaba through the Red-Dead conduit that would build a desalination facility in Aqaba and pump the brine (unusable salty water) to the dying Dead Sea, the question remains on how to generate power for this plant, as desalination is highly energy intensive. The APHRO System addresses this question by looking up: The high mountains on both the Jordanian and Israeli sides of the region enable using hydroelectric pumped storage in combination with renewable energy sources (solar and/or wind) to accommodate regional power demands.
After the meeting in Tel Aviv, the MIT team and a TAU representative visited the Arava Institute. On Tuesday, March 22nd, they joined the CTWM team on a site visit in the Eilat mountains, as well as a tour of Eilat's desalination facility (and Israel's first desalination plant), Sabha. While APHROS is still in its early stages, the Arava Institute is looking forward to future cooperation on this exciting and innovative project.
Submitted by Jaclyn Best