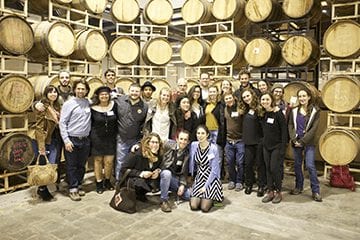 This past weekend, 28 Arava Institute alumni met in Cambridge, MA for the fourth annual North American Arava Alumni Network (NAAAN) Conference.  Attendees traveled from as far as New Mexico, Washington, Halifax, and even Ecuador to participate in the conference and reconnect with friends and the Arava Institute.
The 2016 conference took place over two full days in Cambridge and focused on harnessing the impact of the Arava Institute with alumni upon their return home.  The program of the conference was formulated around three alumni examples of continuing and sharing the values of the Arava Institute.
Oren Rabinowitz '15 presented his research on the specific desert adaptation of the acacia tree — completed under the supervision of Dr. Elli Groner, Director of the Arava Institute's Center for Hyper-Arid Socio-Ecology.
Lee Frankel-Goldwater '11 spoke about the children's book he has written with fellow alumna and illustrator, Sarah Levant. The book inspires children to care for and protect the natural world.
Local beer brewer Sam Hendler '10 invited the conference attendees to join him at Jack's Abby Brewery, which he co-owns and operates with his two brothers.  Alumni received a tour of the facility and learned about the company's sustainability and community outreach efforts.
The second day's events of the conference opened with local interfaith organization Kids4Peace Boston.  Kids4Peace is an inclusive, peace-building organization that brings together teenagers of different cultures and faiths to promote dialogue and community outreach.  During their visit, NAAAN alumni and Kids4Peace students exchanged ideas and experiences around their common goal of fostering connections and understanding between diverse groups. The meeting concluded with a discussion and performance by Palestinian-Israel singer-songwriter and actress Mira Awad and Israeli musician and composer Yair Dalal where they briefly spoke about their own peace work and on the importance of maintaining open dialogue.
The NAAAN Conference ended by joining the Friends of the Arava Institute's Annual Public Forum, at which four alumni sat on a panel to share their experiences at the Institute. Muhanad Alkharaz '13, a Fulbright scholar who is currently completing a graduate degree in the U.S., summed up the impact of the Arava Institute by saying, "What the Arava Institute is doing — it's building capacity within individuals to make a change."  Around the world, Institute alumni are using the knowledge and values of environmental sustainability and peace-building, taught at the Arava Institute, to become leaders and change-makers in their own communities. Through the connection with other alumni, NAAAN will continue to foster life-long connections, act as an alumni activist network, and partner with the Arava Institute and the Friends of the Arava Institute.