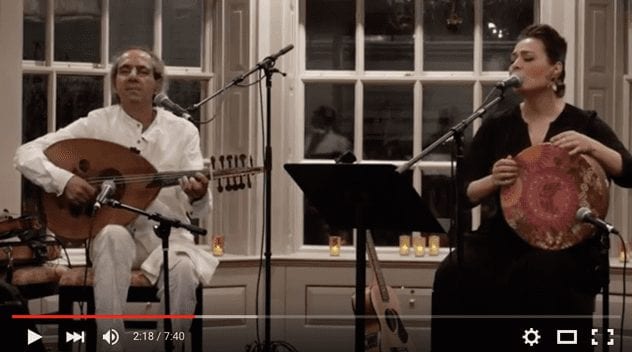 On Saturday, April 2nd, we had the great honor of hosting a special concert with Yair Dalal and Mira Awad, both musicians and peace-activists. The two joined together for the unique show celebrating the multi-ethnic musical environment in the Middle East as a way toward peace-building. In the intimate setting of the Harvard Faculty Club in Cambridge, Yair and Mira performed for a captivated audience of over 100 guests. Weaving together a harmonious melange of sounds from the Middle East, the artists bridged cultures and musical styles.
The concert was a reunion for the two musicians – Mira was Yair Dalal's student years ago – and in describing Dalal's influence on her musicianship, Mira stated, "I needed to come study with Yair to connect to my musical Arab roots."
The Arava Institute is grateful for their ongoing support and commitment to the belief that dialogue between Israelis, Palestinians, and people in conflict all over the world can bring about a more peaceful future.