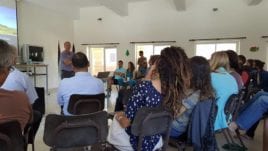 90 Arava Institute graduates gathered this weekend for the 10th annual Arava Alumni Peace and Environmental Network (AAPEN) conference. This year's conference took place in Beit Jalla, West Bank, and was attended by former and current students from Israel, Palestine, Jordan, and other countries. Unfortunately visas for former Jordanian students were approved too late for them to participate in the conference.
The opening ceremony of the conference on Thursday evening included keynote speeches by Ashraf Al-Ajrami, peace activist and former Minister of Prisoner Affairs at the Palestinian Authority, and Avi Buskila, CEO of Peace Now. Each key note speaker spoke of his personal experience and work and outlined a view to possible solutions for the region.
On Friday morning, the alumni said a moving farewell and thank you to Dr. Elli Groner, outgoing Academic Director of the Institute.  Then alumni presented their workand new projects supported by the new Alumni Innovation Program.  Later during the day the group split into three separate tours, around Beit Jalla and Jerusalem to explore the area.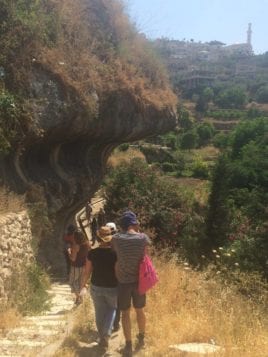 Saturday morning was spent in various different alumni facilitated workshops such as a discussion on normalization using non-violent communication; acrobalance, and session on secondary trauma. One conversation focused on the role of the alumni in running their own network and activities. Participants left inspired and volunteered for tasks in the upcoming year to define a mission and be involved in planning onward. During the afternoon closing session, participants expressed how special it was for them to be able to connect and re-connect with others who had experienced the Arava Institute program first hand.
The yearly AAPEN conference is an important tool in the Institute's connection with its growing alumni community. 70% of the conference attendees continue to be actively involved in cross-border environmental and peace-building activities after their studies, and they demonstrate the permanent impact of this program.
Submitted by Hannah Kadish