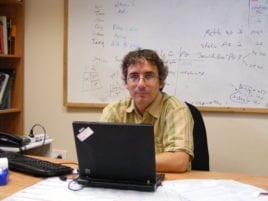 For the past decade, Dr. Elli Groner has been a valued member of the Arava Institute, serving as both the Academic Director and Director of the Center for Hyper-Arid Socio-Ecology. Dr. Groner has recently accepted a position as the Director of the Dead-Sea & Arava Science Center, which serves as a regional partner in applied research, cross-border scientific cooperation, improving scientific literacy, and promoting the Dead Sea and Arava region as an important ecological and growth area. Though he will be leaving his full-time Arava Institute positions for this exciting new opportunity, we are excited that he will continue as a lecturer at the Arava Institute in the fields of Ecology and Biodiversity of the Arava.
Dr. Groner holds degrees in Environmental Biology from Hebrew University of Jerusalem, and a Ph.D. in Ecology from Leeds University (UK). Specializing in desert biodiversity and ecosystem services, his research involves comparing arid and hyper-arid ecosystems, investigating food webs, the integrity of ecosystems, and ecosystem self-organization. Dr. Goner has a particular interest in desert arthropods, and his favorite creatures are darkling beetles (Tenebrionidae). During his tenure at the Arava Institute, Dr. Groner discovered a new species of desert weevil, which was subsequently named Brachycerus groneri in his honor.
We thank Dr. Groner for his years of dedication, initiative, and investment in the Institute's academic program. He is succeeded by Dr. Tareq Abu Hamed as Academic Director; and Dr. Miri Lavi-Neeman is taking over the role of Director of the Center for Hyper-Arid Socio-Ecology.
Submitted by Rachel Comstock