We are excited to welcome Liron and Karolinka, our Program Associates for the Fall 2016 semester! They are currently preparing the Campus for the new students who will be arriving soon.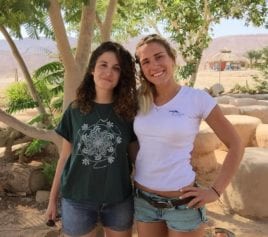 LIRON GREENBERG
Liron was born in the US and grew up in Kfar Saba, Israel. She studied at the Arava Institute in the Fall '15 and Spring '16 semesters, after studying Earth Sciences and Environmental Studies at Hebrew University. Liron is an active volunteer with Akim, the National Association for the Integration of People with Intellectual Disabilities in Israel. She is excited to be able to return to the Arava Institute as a Program Associate and enjoy the semester with a new group of students and interns!
KAROLINKA SOWULEWSKA
Karolinka, a Fall '15 alumna, is originally from Poland, and studied International Relations at Mount Holyoke College, Massachusetts, US. She enjoys drawing, hiking and fencing. During her time at the Arava Institute, she was especially interested in the "Conflict or Cooperation" course and the Peace-Building Leadership Seminar, where she learned viable communication skills for working with multicultural groups. Karolinka is looking forward to introduce the next group of Arava Institute students to diverse communal living.