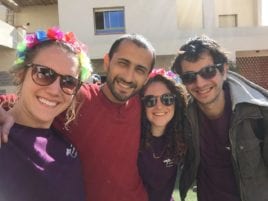 Yesterday we welcomed 43 new Arava Institute graduates to our alumni network as the Fall 2016 semester came to an end.
A highlight of the final week was the festive graduation ceremony on Tuesday afternoon. It was especially moving to hear guest speaker Sarah Perle Benazera, a 2005 alumna, describe the journey she took after leaving the Arava Institute, and how the Arava Alumni Peace & Environmental Network has been a home to her ever since her graduation. Sarah is the Co-Chair of the Yala Young Leaders core leadership group, and has been actively involved in various peace and cooperation projects.
We salute the graduates of Fall 2016 semester and wish them luck in their future endeavors!
[videowrap]
[/videowrap]