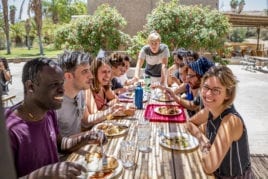 Last week we said goodbye to the 41 participants of the Spring 2017 semester after the last final exams and a few days of conclusive activities.
A highlight of the last days was the festive graduation ceremony held on Tuesday afternoon. Speakers included Liel Maghen, Co-director of Israel-Palestine: Creative Regional Initiatives (IPCRI) and 2011 Arava Institute alumnus, and Prof. Jacob Karni, member of the  Arava Institute Board of Directors, and Director of the Center for Energy Research at the Weizmann Institute; as well as representatives of the  student and intern body.
We salute the Spring 2017 graduates and look forward to learning about the paths they take in life.
[testimonial by="Ben Ben Ami, Spring 2017 alumnus"]As long as we chose to meet, to talk, to share, we are together. Each one of us is choosing different life paths after we finish here, but all of us have this small thing inside us that knows: Being together is actually possible."[/testimonial]
[videowrap]
[/videowrap]