It has been a very busy Passover holiday. The plight of the Sudanese and Eritrean asylum seekers has been one of the centers of attention in Israel, and has caught the world's attention as well. If there was ever an opportunity for Israel to be a light unto the nations, this would be it, but it seems so far, that the government of Israel has no intention of shining a light. The paradox of sitting around the Seder table celebrating our freedom from slavery and finding refuge in the Promised Land, then turning on the news and hearing of government plans to expel African refugees is troubling, to say the least.
I am very proud to say that Kibbutz Ketura, the Arava Institute's home, has taken a firm stand against the expulsion of the refugees and has opened up its doors to provide a small number of refugees with a safe home and the opportunity to work. My wife, Barbara Pinsker, and Yam Erez have taken the lead in organizing the welcoming of the refugees on Ketura.
The other center of attention, no less troubling, is the violence and unrest at Israel's southern border fence with Gaza. Hamas has organized protests along the border. Israel's reaction has been firm but has resulted in the loss of 29 Palestinian lives. The situation remains volatile and unstable. The protests are not solving the humanitarian crises brewing in Gaza but neither is Israel's reaction to these protests.
Gazans still only gets 3 to 4 hours of electricity a day and 95% of the water is undrinkable. There is not enough electricity to pump water for farms, run hospitals or sewage treatment plants. Garbage and raw sewage is everywhere and pours into the Mediterranean Sea, making the beaches off limits. Almost 2 million Gazans are trapped in this living hell, unable to leave.
Gazans need electricity 24/7, clean drinking water, agricultural water, health care, sewage treatment, education, security, employment, freedom of movement, and a pathway to civil rights. This can only be done through a coordinated effort by Israel, the Palestinian Authority, and the international community. It must be done in a cautious, thoughtful way but must not be derailed by rockets, tunnels or violent protests. Gazans lives must start to improve before we can expect Gazans to stop hating and blaming Israel for their plight. Israel will continue to face the impossible dilemma of helping Gaza while Gazans continue to seek ways to draw the world's attention to their suffering, and Hamas continues to plan attacks. Israel needs to start playing the long game and stop being reactive.
In order to play the long game, however, you need to know where you want to end up. While the Oslo Peace Process seems to have failed, the ultimate goal of that process, two states for two peoples, is still the only realistic solution which provides both security and the fulfillment of national aspirations for both Israelis and Palestinians. In his recent New York Times Op-Ed, Ron Lauder, President of the World Jewish Congress, former Chair of the Jewish National Fund, life-long Republican and Likud supporter, declared that "…the only path forward is the two-state solution".
In 2016, the Arava Institute launched the Track II Environmental Forum in order to draw on mutual concerns for the environment to build trust and help create conditions which will enable Palestinians and Israelis to once again sit down and peacefully talk about their shared future. We know that our students can do this; we know that our Israeli, Palestinian and Jordanian research colleagues can do this. One-hundred and sixty of our alumni gathered last month on Kibbutz Ketura to once again prove that nature and friendship know no borders. The question is: Can decision makers in the region learn to sit down again and peacefully negotiate a sustainable and peaceful future for the Middle East? The Arava Institute has found partners in Palestine, Jordan, Israel, and the international community who support our bottom-up approach. Recently the European Union granted the Arava Institute $900,000 to support the Track II Environmental Forum. Just before Passover, Ambassador Daniel Shek, Chair of our Public Council, Dr. Deborah Sandler, Chair of the Track II Environmental Forum, and Tahani Abu Daqqa, former Palestinian Minister of Culture and member of the PLO Committee for Interaction with Israeli Society, met with EU Ambassador to Israel, Emanuele Giaufret and his staff to discuss a number of our solar energy initiatives in Gaza which would improve lives and begin to restore hope.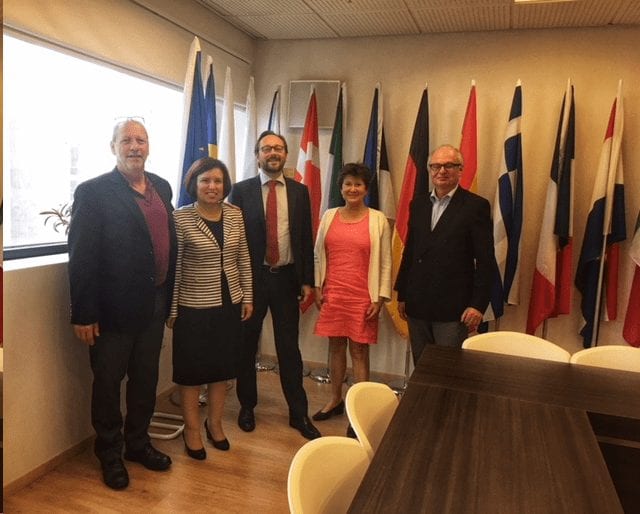 On my recent trip to the US to join the Friends of the Arava Institute's Board of Trustees meeting, I was privileged to participate in the March for our Lives in Boston along with a few other Board members. It was inspiring to be led by such courageous and focused 13- to 17-year-olds fighting for their beliefs. It reminded me that when top-down leadership is failing, bottom-up leadership needs to step in.
David Lehrer