Everyone was disappointed when global travel restrictions necessitated the postponement of the 2020 Israel Ride to 2021. But the Arava Institute and our partner organization Hazon were determined to create an opportunity to bring the Israel Ride community together, so we built a unique and engaging Virtual Israel Ride from October 25 to November 1.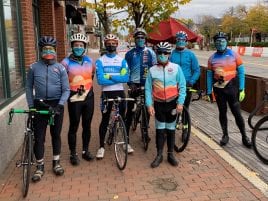 The Virtual Israel Ride consisted of a series of interactive online programming, independent riding, and community building activities to echo the meaningful 'off-the-bike' experiences of past Israel Rides in a virtual format, including:
Group rides on Peloton and Zwift
"Rest stop" happy hours
Video tours
Community Shabbat
Lectures and presentations
These activities and programming enabled riders to form a deeper connection to the work, challenges, and issues surrounding environmental cooperation which are being addressed by the Arava Institute in Israel and Hazon in the United States.
Over 200 participants signed up for the Virtual Israel Ride, where they were able to set individual physical fitness and funding goals. Despite the particular challenges of this year's circumstances, riders raised over $160,000 in donations and that number is continuing to grow; fundraising is open until December 31.
Looking forward, the 2021 Israel Ride (October 19-26) is now open for registration. Participants can expect an experience similar to previous years: five days of biking through the beautiful Israeli countryside with plentiful local food, wonderful crew, and great overnight locations from Jerusalem to Eilat.
Register for the 2021 Israel Ride!
Watch a slideshow of Israel Ride highlights