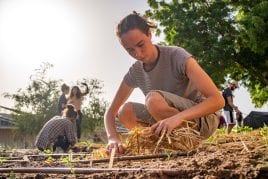 Two weeks ago with both joy and sadness I finished my second semester at the Arava Institute for Environmental Studies, and said goodbye to a place that I love. Putting my experiences into words adequately is an impossible feat, and I know that I won't do it justice, but I wouldn't be an alumna of the Institute if I didn't at least give it a go.
It is a clichéd thing to say but I now feel as though I can split my life into two parts, life before and life after the Arava Institute. Being a student at the Institute has been a life-altering experience. A good friend once told me that 'the more you know the more you grow and in a place like the Institute you grow a couple of years in just a few months.' After two semesters I feel approximately 84 but in the best possible way. I have met amazing people, heard stories that have altered my perspectives and had my mind stretched academically, politically and ethically until it felt as flexible as my hippy friends who would wake up for early morning yoga in the desert sun.
Ten months ago, in February, I went from a place with 1400 mm of rain per year (my home in Belfast, Northern Ireland) to a place with just 25 mm of rain. Suddenly the green hills and constant cold that I was used to were replaced with blistering heat and mile after mile of dry, seemingly empty desert. Of course, after taking a few courses at the Institute I now know that the desert is far from empty. I've learnt a great deal about sun protection, mosquito repellent and the importance of drinking water ALL THE TIME. But I've learnt so much more as well.
Taking part in the Peace-Building Leadership Seminar (PLS) was, for me, an integral part of life in the Arava. During PLS sessions I felt that the elephant in the room, actually more like the stampeding herd of elephants, could finally be spoken about. These elephants took the shape of words such as freedom, independence, holocaust, nakba, terrorism, recognition, intifada, home, land, privilege, discrimination, army and so on. It was both meaningful and challenging hearing my peers' stories, watching them question their identities, watching them understand their own perspectives and trying to understand the other sides as well, and learning with them, again and again, that there is no one truth in this world. Of course, I too come from a place that is not lacking in conflict. Northern Ireland experienced a violent conflict from the late 1960s to the late 1990s. Although this conflict is thankfully over, the scars are far from healed. Hearing my friends speak in PLS I heard eerie echoes of voices from home. These voices would also speak of two sides, of two versions of the same events, and of the need for revenge, justice and security. My friends reflected to me my own identity, my own nationalism and made me question my own beliefs and ideas.
During our first lecture of Political Ecology, Dr. Miri Lavi-Neeman, argued that the Institute's motto, 'nature knows no borders', is inaccurate because nature, like so many things, is deeply impacted by politics. The deeply political nature of our choices and actions is something that was emphasized to me again and again during my time at the Institute. The food we eat, the words we choose, the people we surround ourselves with, the things we buy, and the places we live, these are all politicised decisions. At first I would cringe from these realizations and view them as a burden. However, as I leave the Institute I now understand that these choices are important responsibilities and we can use them to empower ourselves and those around us. Moreover, as a deeply privileged person taking these choices seriously is the least I can do.
It is a common saying at the Institute that it is a magnet for amazing people. The people at the Institute come from so many different walks of life and yet we manage to form a strong community, growing and learning from one another. It is from these people, students, interns, lecturers and staff, that I learnt so many lessons. They taught me many things from the importance of having fun even in the face of such a bleak world, to the importance of waking up early every once in a while to watch the sunrise, to the importance of making your voice heard. One very meaningful lesson that I am taking with me from my friends at the Institute is that I should always try to understand the other side. Whether that means following someone I don't necessarily agree with on social media, or really listening to someone I clash with rather than just thinking about how I'm going to argue against them. There is always another side, there is always more to the story and as much as I might not want to believe it, I am never one hundred per cent right. There is great power and wisdom in learning to understand the people and the perspectives on 'the other side', whatever that other side maybe.
Of course, I couldn't talk about my two semesters at the institute without talking about the big C. No not conflict this time – COVID-19. The coronavirus has had a huge impact on the world, and at the Institute we did not escape it. During my first semester, the pandemic hit and we went into lockdown, meaning that although we could continue the semester we could not leave Kibbutz Ketura and many restrictions were introduced. My second semester was turned into an intensive program and was also affected by lockdowns and social distancing restrictions. To be honest, being at the Institute during these times just made me more acutely aware of what an amazing place it is. That we managed to continue and to in fact thrive in the face of so much uncertainty really was a fantastic feat.
I could write about my time at the Institute forever. I could, with luxurious enjoyment, describe every minuscule moment. I could reimagine for you the blazing sun burning my back while my hands were busy mud building in the caravans, I could tell about the laughter that spilled from every corner of the vibrant campus, and I could write for hours about the many long nights spent cooking, talking, dancing, sleeping deep in the desert or huddled around a bonfire. These are memories that I will cherish.
Personally, I am leaving the Institute as a stronger, happier and more outspoken person and I am very grateful – shukran, thank you, todah.
Submitted by Anna Herron