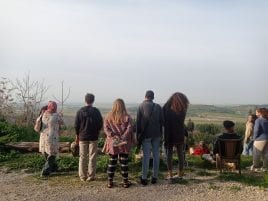 Last week, the Spring 2021 students and interns went on the semester Peace-building Leadership Seminar (PLS) trip, an opportunity to deepen their understanding of the topics discussed during the semester, and to critically examine their opinions, cultural values and history. The trip began with a sleepy 7 am bus ride to the Canada National Park. Upon arrival, we met Umar al Ghobari. Umar works for Zochrot, an NGO working since 2002 to promote acknowledgement and accountability for the ongoing injustices resulting from the Nakba. Umar walked with us through Canada Park and talked about the historical and current impacts of the Nakba, Imwas and Yalo, the Palestinian Arab villages upon which the park was established, and the work that is being done to ensure that the Nakba is not forgotten. A few students observed that the park has a significant symbolic nature as it is built upon the ruins of destroyed Palestinian villages and that even the walls in the park are built using stones that were once part of Palestinian homes. For others, the tour sparked a conversation about whether it is important that multiple narratives are represented, or if it is sometimes valid to hear just one side of a story.
Following the tour (and some much-needed lunch), we then took a short bus ride to Wahat a Salaam-Neve Shalom-Oasis of Peace, a cooperative village midway between Tel Aviv and Jerusalem. It was founded by Israeli Jews and Palestinians in an attempt to demonstrate that the two peoples can live side by side peacefully, as well as to conduct educational work for peace, equality, and understanding between the two peoples. Shortly after arrival, we met with two current residents of the village who were also born there. They talked with us about their relationships with the village, the challenges of raising and educating children in such a community, dialogue, the search for equality, and their perspectives on the Palestinian-Israeli conflict. Following this, we had a panel discussion with Dean Issacharof and Samah Salaime. Dean is an activist and media advisor who began his career as spokesman for "Breaking the Silence", and today is an independent media consultant for various organizations, focusing on promoting Arab-Jewish partnerships. Samah is a researcher and activist in gender education in Palestinian society, social entrepreneurship and majority-minority relations. The panel focused on how Israeli and Palestinian civic societies and political systems are dealing with the ongoing conflict. Two of the main topics that came up during the panel were the role of women and gender within Palestinian society, and the army in Israeli society. Following this panel, we reflected on the day in an activity facilitated in small groups.
The next day began with another early bus journey, this time to Jaffa. In Jaffa, we had two tours. One with Yigal Baram, an Israeli tour guide who was born in Jaffa and specializes in tours of the area, and another one with Abed Abu Shehade, a Palestinian political activist who was also born in Jaffa and is a Jaffa-Tel Aviv City Council member. During the two tours, the guides talked with us about the different histories of Jaffa, Israeli and Palestinian societies in the area, and some architectural significances. These tours demonstrated the complex and sometimes contradictory nature of historic narratives. After eating lunch in Jaffa, we once again split into small groups for our final reflection of the trip. Following these intense and thought-provoking discussions, we got back on the bus and began our journey back to the desert and the Arava Institute.
Before the trip, we had been sent a list of what to bring. The list said: Please bring a hat, water bottle, sun cream, comfortable walking shoes and clothes, a notebook, and an open mind and heart. Although the final items on the list may seem easy to take with you it can in fact be extremely challenging. When one is confronted with information, narratives and emotions that contradict one's personal beliefs, and perhaps even causes one to question them, then it can be very difficult to keep an open heart and mind. Throughout the trip, the group grappled with this challenge but in the end, it was clear to see that everyone was not only challenged and moved but also receptive to the experience that they had. The students and interns finished the PLS trip with many questions concerning things such as narrative, equality, privilege, justifications, and of course, the ever-elusive question of what it means to try and bring peace.
Submitted by Anna Herron