At the beginning of this semester our communications team was joined by our new intern Shachar Hod. We asked her to write a few words about her experiences during the first few days of the semester.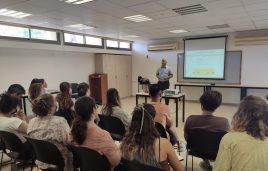 Just before the Jewish high holidays we arrived at the Institute excited and curious for a week of orientation and the beginning of classes – 38 students and interns from Israel, Palestine, the United States, and Great Britain. 
The week began with a series of various opening activities during which we got to know each other and the special place we will call our home for the next few months, Kibbutz Ketura and the surrounding nature.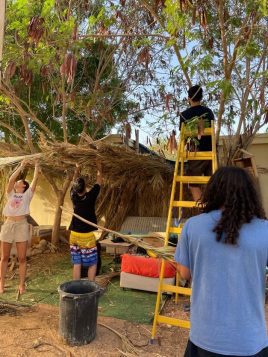 The first few days were intense, and full of enjoyable activities such as a day of communal gardening during which we planted our own vegetable garden, a walk to Ketura's agricultural fields and the Center for Sustainable Agriculture's Experimental Orchard, and the building of our own Sukkah in nature. It is truly extraordinary for me to be celebrating these holidays together with such a large group from different religious and cultural backgrounds.
It has been powerful and challenging to meet all these new people, but in a positive way that brings me hope and makes me feel good and excited for the future. When I got here I did not know what to expect, but right now reality surpasses all imagination.
Submitted by Shachar Hod