Last week our students and interns went on a three-day intensive trip to explore sustainability, education, and community in Israel and Palestine. Current student Ruth Jeffers shares her perspective on the trip.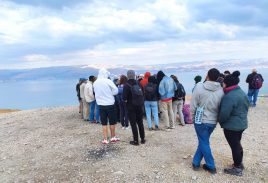 The semester trip was a whirlwind tour of sites in Israel and Palestine where water is threatened by economic pursuits. The Dead Sea, its terrain and water levels altered in service of mineral extraction for agriculture. The Mediterranean Sea, host to a gas rig that pollutes the air and increases the concentration of greenhouse gases in the atmosphere. The Hula Valley, drained of its water and inhabitants for agricultural use. We also visited several places of environmental resistance, from a Palestinian conservationist who works for the protection of native birds, to Nabat Ecofarm, where a Palestinian family grows food in a way that creates life for the humans, nonhumans, and plants that share the land. We moved from place to place very fast, and I rarely felt like I fully knew where my feet were. Knowing in a way that comes from having the time and space to give your full attention to a place, its people, and their stories. Knowing in a way that sticks in your whole being – body and spirit along with mind. But I caught a glimpse of this knowledge at the Ecofarm, where we stood on grassy hills among trees that seemed impossibly green after a month of the desert contrasting sandy mountains against cloudless blue sky. This was a place where we met a Palestinian family who live on and care for their expansive land, which felt even more significant after driving through Jerusalem and seeing how little space Palestinians have to live on the other side of the wall. On the farm, life was abundant, and it felt right to be in a place where Palestinians live on the land they are rooted to. Of course, not everything was right. They endure restrictions on the kind of food they can grow; they do not experience the same rights in Israel that Jewish Israelis do; and they surely face injustices that we did not learn about. But I could feel that something was different there and that bits of life infused with hints of peace were possible.
As an international who has only recently started learning about the situation of Israel and Palestine, I know I am always missing pieces of the stories behind people and the land they do or do not inhabit, and I am trying to consider the stories that aren't told when we are introduced to a place. The purpose of the trip was for the students to see the connection between different environmental issues in Israel and to think about how they could be solved. Intellectually, seeing this connection was important, but I was most moved by the chance to see the wall and the contrast between the cities on either side, to stand on grass and breathe the air of a farm with space to live, and to ask how these realities can both exist and what forces create them. At the Institute, on Kibbutz Ketura, there is no shortage of space. You only have to look up to feel small and enveloped by the world, and that is a unique kind of peace. During the trip, I struggled to feel this peace, but after feeling it at the farm, I better understand what is missing when one group takes away another's land. I believe that displaced and constricted people have the right, if they wish, to live in spaces where they can breathe, rest, and enjoy peace, and I am thankful that this part of the trip enabled me to imagine one way that justice and freedom can attempt to manifest in this land.