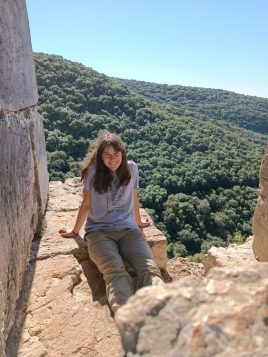 We are excited to welcome Ella Lotan to our team as the new Middle East Outreach and Communications Manager.
Ella Lotan studied at the Arava Institute in the Fall 2021 semester. She is a licensed tour guide with the Society for the Protection of Nature in Israel (SPNI), and before her studies at the Institute, managed project promoting sustainability education and lifestyle in National Service programs (Shnat Sherut). Ella sees herself a an environmentalist with a deep love for nature in all its forms. Her time at the Arava Institute led to the realization the inevitable bond between the environment and the people that live in it, and the need to act to guarantee a better future for both. She is excited to reach new audiences in her new position at the Institute, and expose them to the awakening experience she herself had as a student.

Ella is replacing our alum Ofek Ravid. We thank Ofek for his commitment over the last two years, and wish him the best of luck in his future endeavors.