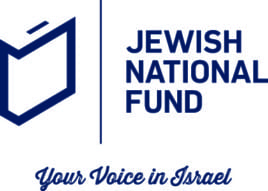 Since 2002, Jewish National Fund has had an official partnership with the Arava Institute. JNF raises funds for student scholarships and many of the Arava Institute's programs. Past support has funded the construction of dormitories, academic and research offices, and a new laboratory, and has provided $1 million for scholarships.
With more than a century of history behind it, Jewish National Fund continues to adapt to meet the challenges of a new era while staying true to its original mandate. Now nearing 114 years, JNF is more relevant today than ever as it works tirelessly on behalf of the land of Israel and its people.
Jewish National Fund began in 1901 as a dream and vision to reestablish a homeland in Israel for Jewish people everywhere. Jews the world over collected coins in iconic JNF Blue Boxes, purchasing land and planting trees until ultimately, their dream of a Jewish homeland was a reality. Today JNF embodies both heart and action; our work is varied in scope but singular in benefit: to bring an enhanced quality of life to all of Israel's residents and translate these advancements to the world beyond.
Today, JNF's work is concentrated on seven major areas: forestry and green innovations, water, community development, Zionist Education and Advocacy, research and development, heritage sites and accessibility & therapeutic services. JNF's $1 Billion Roadmap for the Next Decade charts a course for the development of the Negev and Galilee so Israelis have the opportunity to enjoy a better quality of life outside of the congested center of the country.
JNF has planted more than 250 million trees, created over 1,000 parks and recreational areas, and built more than 220 reservoirs that furnish 13 percent of the country's water needs. As an active NGO member of the United Nations, JNF shares its expertise in afforestation, arid land management, sustainable water development, river rehabilitation, and applied agricultural R&D with countries across the globe. Jewish National Fund gives all generations of Jews a unique voice in building a prosperous future for the land of Israel and its people.