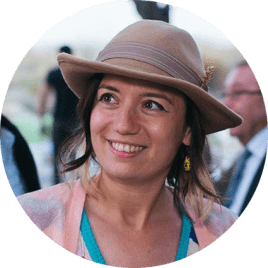 Illana Leizin was born in Russia and made Aliya to Israel as a child. Leizin attended the Arava Institute from August to December of 2015 as an intern on an ecosystem service assessment and a Program Associate—an experience which had a great influence on her life. In July 2018, she finished her MA at Tel Aviv University, researching social identity of sustainable fashion designers and consumers. She is the co-initiator of the Sustainable Fashion Forum in Israel as well as involved with many cultural, social and sustainable projects, mainly in Tel Aviv, working both with local activists and with decision makers. She lives a zero waste life, enjoys yoga, cycling and multi cultural music.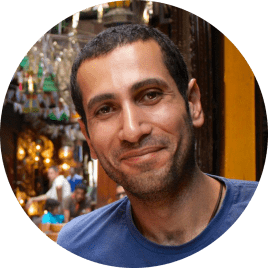 Mohammad Azraq studied at the Arava Institute in the academic year 2010 – 2011. He was born to Jordanian parents in Kuwait City, Kuwait. Following his year at the Arava Institute, he was awarded the Atkin Fellowship for Arab Israeli Peace by the War Studies Department of King's College London, where he published a paper on grassroots community initiatives for renewable energy generation in West Bank villages. Azraq is currently developing a migration narrative project to help young Arab immigrants and Mizrahi/Sephardic Jews connect in Europe. He enjoys listening podcasts in the morning, running outside, cooking vegan food, listening to alternative Arabic and Hebrew music and going to the cinema.
Environmental Cooperation in Israel and Palestine
From January to February of 2019, Arava Institute alumni Illana Leizin and Mohammad Azraq will visit universities and communities throughout the United States to speak about their experiences growing up in Israeli and Palestinian families, their decision to study environmental cooperation together at the Arava Institute, and answer any questions raised by members of the community.
Please contact Sarah with questions about individual visits or events.
The Friends of the Arava Institute will also be hosting an alumni tour in the fall of 2019. Please contact Sarah to book a date during the fall tour!
The Dialogue Project: Winter 2019
Sunday, January 20 – Boston, MA
Monday, January 21 – Boston, MA
Tuesday, January 22 – Brandeis University (Waltham, MA)
Wednesday, January 23 – Allegheny College (Meadville, PA)
Thursday, January 24 –Pennsylvania State University (State College, PA) and University of Pennsylvania (Philadelphia, PA)
Friday, January 25 – Drexel University (Philadelphia, PA) and Congregation Adath Jeshurun (Elkins Park, PA)
Saturday, January 26 – Philadelphia, PA
Sunday, January 27 – Maryland
Monday, January 28 – Washington College (Chestertown, MD)
Tuesday, January 29 – Washington, D.C.
Wednesday, January 30 – George Washington University &  American University (Washington, D.C.)
Thursday, January 31 – Austin, Texas
Friday, February 1 – University of Texas, Austin (Austin, TX)
Saturday, February 2 – Houston, Texas
Sunday, February 3 – El Paso, Texas
Monday, February 4 – New Mexico State University (Las Cruces, NM) & University of Texas, El Paso (El Paso, TX) 
Tuesday, February 5 – Santa Fe, New Mexico
Wednesday, February 6 – Santa Fe Community College (Santa Fe, New Mexico)
Thursday, February 7 – Moishe House (Phoenix, AZ)
Friday, February 8 – Phoenix, Arizona
The Dialogue Project in the News