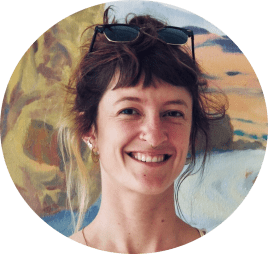 Shira Fisch attended the Arava Institute as a student in the Spring 2019 semester and as a Program Associate during the Fall 2019 semester. She was born in California and raised in a small village in the Galilee. After her IDF service, she worked on sustainable farms, raising goats and harvesting organic vegetables, in Central and South America. Shira plans to pursue a bachelor's degree in Conflict Resolution and Cultural Anthropology. She has a great passion for music and is a professional DJ.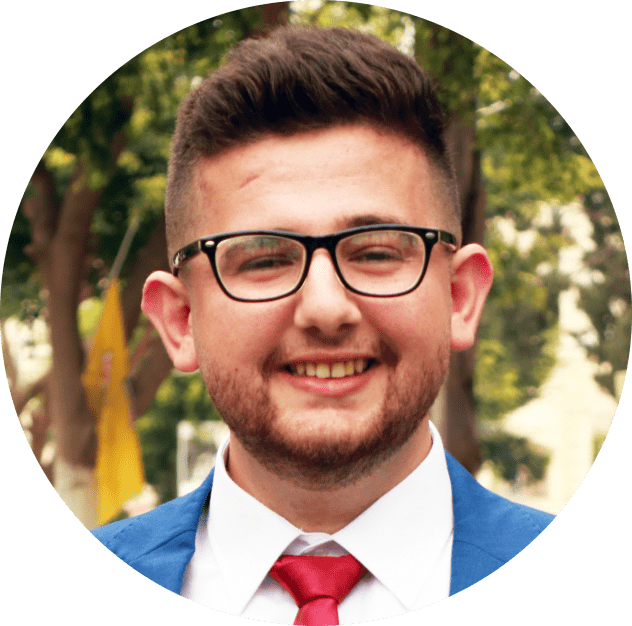 Mohammed Jarad was born and raised in the West Bank. He attended the Arava Institute in the Spring of 2017, during the second year of his bachelor's degree in Sustainable Construction Engineering from Palestine Technical University. Outside of academia, Mohammed is a volunteer English tutor at a local orphanage. Moved by his passion for human rights, he founded a women's empowerment initiative called "Ladies First" and he coordinates the annual Freedom Marathon in his city.
Environmental Cooperation in Israel and Palestine
From January 25 – February 14, 2020, Arava Institute alumni Shira Fisch and Mohammed Jarad will visit universities and communities throughout the United States to speak about their experiences growing up in Israeli and Palestinian families, their decision to study environmental cooperation together at the Arava Institute, and answer any questions raised by members of the community.
Please contact Frances Gould with questions about individual visits or events.
The Friends of the Arava Institute will also be hosting an alumni tour in the fall of 2020. Please contact Frances to book an event during these tours!
The Dialogue Project: Winter 2020
Saturday, January 25 – Congregation Beth El (Bethesda, MD)
Sunday, January 26 – Washington, D.C.
Monday, January 27 – George Washington University (Washington, D.C.) and American University (Bethesda, MD)
Tuesday, January 28 – Washington, D.C.
Wednesday, January 29 – Washington College (Chestertown, MD)
Thursday, January 30 – Notre Dame University (South Bend, IN)
Friday, January 31 – University of Nebraska-Lincoln (Lincoln, NE)
Saturday, February 1 – Manny's Cafe, 3092 16th Street (San Francisco, CA)
Sunday, February 2 – San Francisco, CA
Monday, February 3 – Fresno State University and Fresno City College (Fresno, CA)
Tuesday, February 4 – Hillel of UC Davis and Sacramento State University (Davis, CA)
Wednesday, February 5 – Stanford University (Stanford, CA)
Thursday, February 6 – Boston Partners for Peace (Cambridge, MA)
Friday, February 7 – Williams College (Williamstown, MA) and Tufts University (Medford, MA)
Saturday, February 8 – Boston, MA
Sunday, February 9 – The Brotherhood Synagogue (New York, NY)
Monday, February 10 – Pace University and Columbia University (New York, NY)
Tuesday, February 11 – New York University (New York, NY) and Wesleyan University (Middletown, CT)
Wednesday, February 12 – Villanova University (Villanova, PA), Drexel University and the University of Pennsylvania (Philadelphia, PA)
Thursday, February 13 – Dickinson College (Carlisle, PA) and Penn State University (State College, PA)
Friday, February 14 – Allegheny College (Meadville, PA)
The Dialogue Project in the News
"The Dialogue Project: Bringing the Conversation to Notre Dame," University of Notre Dame – Department of Sustainability Studies. February 10, 2020
"The Dialogue Project, Arava Institute for Environmental Studies," Williams College Center for Environmental Studies. February 2020
"Study Abroad Advocates for Global Cooperation Against Climate Change," The Rampage (Fresno City College), February 13, 2020
"Arava Panel: Environmental Concerns Transcend Middle East Borders," Jewish Exponent, October 29, 2019
"Dialogue and environmental justice for Israel and Palestine," The Chronicle (Duke University), November 1, 2018
"Arava Brings Stories of Coexistence to Athens," The Atlanta Jewish Times, February 15, 2018
"Amidst hostility of Israel-Palestinian conflict, environmental concerns transcend borders, speakers say," The Badger Herald (University of Wisconsin, Madison), February 6, 2018
"Arava Institute Alumni Discuss Israel-Palestine Conflict," The Dickinsonian (Dickinson College), October 26, 2017
"Israeli, Palestinian visit MSU to discuss conflict, encourage cooperation," The State News (Michigan State University), October 24, 2017
"Israelis and Palestinian find common ground in the environment," Pitt News (University of Pittsburgh), October 20, 2017
"Speakers discuss Israeli-Palestinian environmental cooperation at Lunch & Learn," Tufts Daily News (Tufts University), October 13, 2017
"Former students of Israel's environmental Arava Institute visit CU Boulder, promote peace," CU Independent (University of Colorado, Boulder), January 31, 2017
"Environmentalists talk societal relations amidst Middle East conflict," BU Pipe Dream (Binghamton University), September 16, 2016