[toggle title="1996 Updates"]
Michael Zwirn, 1996-1997
In June 2013 I became Director of Resource Development for Adeso, a Nairobi-based international development and humanitarian organization working in Kenya, Somalia, and South Sudan. I visited all the fieldwork in June/July before starting up the Washington office, from which I coordinate the organization's fundraising and communications, as well as some government affairs and advocacy.
[/toggle]
[toggle title="1998 Updates"]
Corey Mikami, 1998-1999
I traveled to Australia and Italy, where I noticed varying styles of agriculture and landscape design. These issues interest me as a future landscape designer. I am passionate about connecting city dwellers back to nature by growing plants in urban areas.
[/toggle]
[toggle title="1999 Updates"]
Annie Jacobs, 1999-2000, 2008-2009, 2010
I've most recently been working in small-scale organic dairies – first goats, now Jersey cows. I began this journey as Dai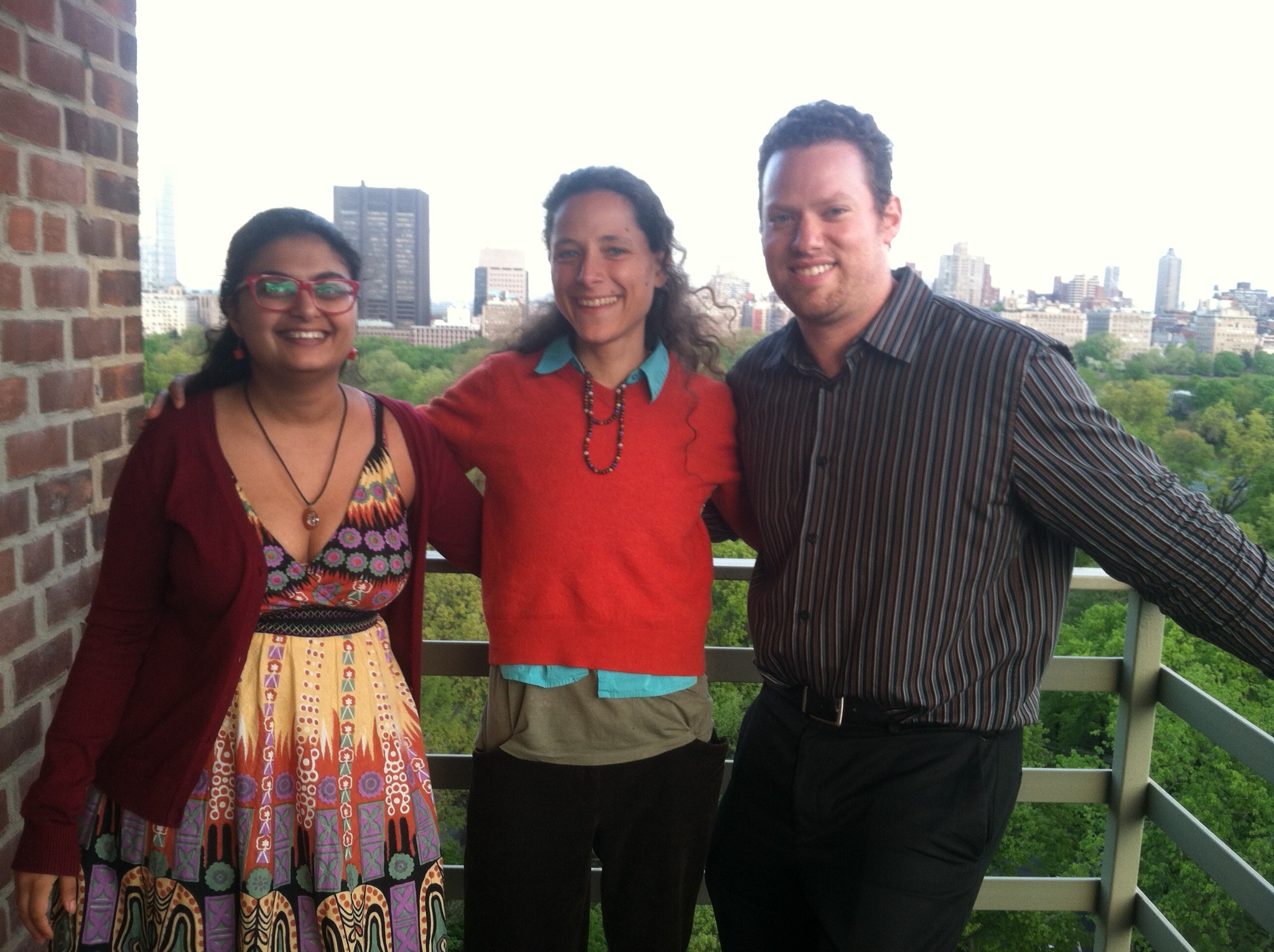 ry Apprentice at Isabella Freedman Jewish Retreat Center in Connecticut. I'm also just finishing a book project for Seeds of Peace, illustrating an expressive arts performance that I was part of during an adult Seeds of Peace course in summer 2012. The text is a collection of writing from participants in the group from Israel, Jordan, Palestine, India, Pakistan, Cyprus, Egypt, and the U.S. My art form is cut-paper collage, which I really enjoy, despite how painstaking it can be to do.
[/toggle]
[toggle title="2004 Updates"]
Noa Millman, 2003-2004
I recently started working as a Visiting Professor of Sociology at Mt. Holyoke College in Western Massachusetts. As part of my job, I teach an exciting seminar on the Israeli-Palestinian conflict from a multi-narrative perspective.
[/toggle]
[toggle title="2007 Updates"]
Elana Katz-Mink Mendelson, 2007, 2008-2010
I am currently working as a Water Policy Advisor at the U.S. Department of State in the bureau of Oceans and International Environmental and Scientific Affairs, in the office of Conservation and Water. I am also graduating from American University, Washington College of Law with my J.D. this coming May (2014).
Sam Frank, 2007-2008
I am on my last week of a five-month adventure throughout Colombia and Ecuador. I just finished volunteering for two weeks on a cacao-growing, chocolate-making farm in the Chocó Rainforest of Ecuador.  Next, I return home to Bellingham, Washington to commence work as a cheese-maker for a nearby goat farm, as well as an internship with a very interesting, local coffee company
[/toggle]
[toggle title="2008 Updates"]
Hannah Belsky, 2008
I moved to New York City this fall and started work at Soliya, where I am the Partnerships and Development Coordinator and occasionally volunteer as a facilitator. I love my new job because I get to engage directly with issues and people throughout the Middle East and contribute toward helping more young people gain international experience and communicate across differences.
Tova Handelman, 2008
After coming back to the States, I finished my BA in Environmental Studies at University of California Irvine in California. I am now working at a Los Angeles marine conservation non-profit organization called Heal the Bay. Heal the Bay has an aquarium and education center, and my job is to take care of the animals and teach about marine conservation.
Dori Chandler, 2008
I recently started working with Tompkins County Solid Waste Department in Ithaca, New York, helping them implement the county's first Curbside Foodscraps Recycling Pilot Program (collecting food scraps at 400 homes for composting and expanding to an additional 800 homes in the Spring). Also got engaged to long time partner Scott over Thanksgiving!
Samantha Kanofsky, 2008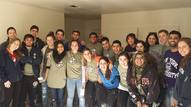 I recently started as the Program Director for the Jewish Disaster Response Corps (JDRC) in New York. The JDRC is a faith-based initiative that assists all communities in domestic disaster recovery while exhibiting Jewish values and promoting broad and visible Jewish participation. We're currently focusing on Hurricane Sandy long term recovery, as well as taking groups of college students to Oklahoma to help rebuild from the tornado devastation that occurred in May 2013. Especially proud of our Jewish-Muslim trip to Oklahoma through NYU's Interfaith Dialogue group (pictured)!
[/toggle]
[toggle title="2009 Updates"]
Carlyn Johnson, summer 2009
I joined Cadmus, an environmental consulting firm, in October 2012. I am working on the engineering team as a project manager of energy efficiency studies. Tara Fortier, a fellow Arava Institute (and Allegheny College) alumna works at Cadmus as well!
Vivian Futran, 2009
I moved back to Israel, after graduating from Penn. Currently I work at Hebrew University in Jerusalem.
[/toggle]
[toggle title="2010 Updates"]
Elena Solomon, 2010
I graduated in May 2012 with a Bachelor's degree in Sociology and Environmental Studies. Currently I work part time as a sexual health facilitator and a youth advisor for two groups. In addition to all that, I'm also training to be a doula, which is a birth advocate/coach.
Lindsey Zemler, 2010-2012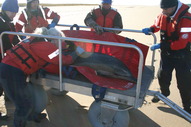 I am doing AmeriCorps Cape Cod, and as part of this service year I work for the Marine Mammal Rescue & Research Team for the International Fund for Animal Welfare on Cape Cod. In this photo is a common dolphin that was stranded in Provincetown, Cape Cod which we deemed healthy for release and transported to a safe location. This photo was taken while we were transporting it from the trailer to the water at the release site.
Yosra Albakkar, 2010-2011
I am in my second year at Trent University in Canada, where I'm writing my master's thesis. I will be travelling to Stockholm, Sweden for two weeks this April to participate in the She Entrepreneurs Program, which is designed for Middle Eastern women who have great project ideas and want to implement them.
[/toggle]
[toggle title="2011 Updates"]
Rachel Willis, 2011
I have been working at Skidmore College in upstate NY for a little over a year. I started as a Sustainability Fellow and am now the Sustainability Coordinator. I get to work with some amazing faculty, staff, and students on a variety of projects, including forest stewardship programs, peer-education interns, waste and recycling management, sustainability strategic planning, and more.
Shannon Wade, 2011-2012
I graduated from Allegheny College this past May with a B.A. in Environmental Studies, and am currently working in education and theater for kids at the Portland Stage Company in Maine.
[/toggle]
[toggle title="2012 Updates"]
Shae Selix, 2012-2013
I am currently in my first year of a Master of Public Health program at Yale University. This summer, I will be working at an environmental consulting company called ChemRisk in San Francisco, CA.
[/toggle]
[toggle title="2013 Updates"]
Samantha Laurence, 2013
I am finishing up my last semester at Allegheny College and will be graduating this upcoming May with my B.A. in Environmental Studies. After that, I will start a summer institute with Teach For America and will be teaching for the next two years as a secondary science teacher in Indianapolis, IN!
Rebecca Shapiro, 2013
I'm training to be a yoga teacher at a program here in St. Paul, MN, developing a passion that I first explored at the Arava, as well as interning for the yoga studio that hosts the training. I'll be graduating from Macalester College in May.
David Rowan, 2013
The Arava Institute was a perfect first step in transitioning back into student life from a 7 year career as a professional poker player. I have continued my studies in Durham, NC in pursuit of a degree in Education Policy. Ketura (and Israel in general) helped me appreciate a sense of community, and through a plethora of extracurricular pursuits, I have quickly built one for myself here.
[/toggle]