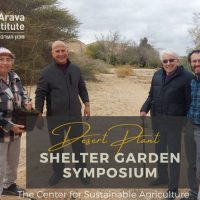 (IN-PERSON & ONLINE) - The Desert Plant Shelter Garden Symposium hosted by the Arava Institute's Center for Sustainable Agriculture began with an excursion through the Institute's Shelter Garden for Endangered Desert Flora that culminated in a planting of the critically endangered Ficus Palmata in honor of Sonia Twite. Lecturers included Merav Lebel, Ori Fargman-Sapir, Elaine Solowey, and Oren Hoffman.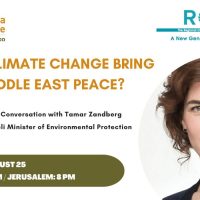 (ONLINE) - An exciting webinar on August 25 featuring Israeli Minister of Environmental Protection, Tamar Zandberg. Minister Zandberg will speak about Israel's efforts to cut emissions and to adapt to the effects of climate change, as well as the country's increasing environmental cooperation with many Arab states. A former leader and member of the Meretz Party, she will also speak about Israel's upcoming election and the future of the Israeli peace camp. Please register here to attend the event.
TEL AVIV (IN-PERSON & ONLINE) - The Arava Institute, and the Oxford Martin School, Oxford University, are pleased to invite you to the 2nd event in memory of Dr. Noam Segal, on the topic of Applied Environmental Diplomacy: Pathways to Sustainability in the Jordan River Basin. The event will be held on July 3rd, 2022, at 18:30 in Tel Aviv. It will also be possible to attend the event virtually as a webinar. Please register here to attend the event.
BOSTON - Join Dr. Tareq Abu Hamed, Executive Director of the Arava Institute and Dr. David Lehrer, Director of International Development, to learn about the Institute's latest projects related to climate crisis mitigation and resilience.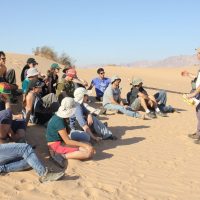 Join the Arava Institute faculty and leadership for short Zoom lectures throughout the fall on topics such as climate change and desert agriculture.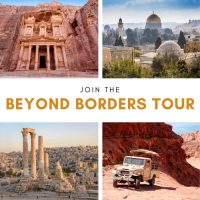 Join the Arava Institute for a small group trip across Jordan, Israel, and the West Bank, with an optional extension in the United Arab Emirates. Tour participants will get a unique firsthand look into the politics, culture, and environment of this region as they visit some of its most important and beautiful sites, including Petra, Jerusalem, the Dead Sea, Wadi Rum, the Arava Institute, Ramallah, and more.