Jemie Dababneh, North American, 2000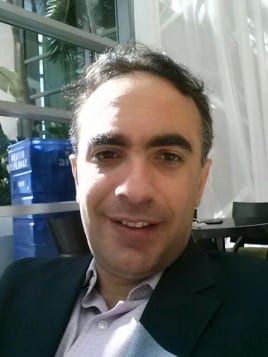 Dr. Jemie Dababneh attended the Arava Institute in the spring semester of 2000. Originally from a suburb of Amman, Jemie earned his undergraduate degree in Mechanical Engineering and worked for a year as a product engineer before deciding to enroll at the Arava Institute. Although he enjoyed his job, he wanted to make a positive impact on regional environmental issues, particularly the perennial water shortage in the Middle East. Jemie anticipated that the experience of living and learning at the Arava Institute with Israelis, Palestinians, Jordanians, and North Americans would provide insight into how to manage resources cooperatively with Jordan's neighbors.
Jemie's cohort of students at the Arava Institute was the last to live in kibbutz housing as opposed to student dorms. When asked about the kibbutz experience, he says, "It was like heaven – life was good," adding that he liked "the idea that Ketura was close to the borders [with Jordan and Egypt.] Here, there was the possibility to bring people together." Jemie contributed to this culture of coexistence by bringing classmates home to meet his family. He recalls one weekend when he brought ten classmates to his home in Jordan, including students from Israel, the US, the UK, and Canada. His mother prepared dinner for the group and later they arranged mattresses on the floor so everyone could sleep in the same room.
One of Jemie's favorite components of the Arava Institute's academic program was the opportunity to learn more about water management in the Middle East. He remarks that it was interesting to be in the Negev and see how the Israelis were using water resources to make the desert bloom.
Inspired by his semester at the Arava Institute, Jemie enrolled afterwards in the graduate program at the Hebrew University of Jerusalem in Israel to get his first Master's degree in Politics. In parallel to that, he earned a graduate certificate from the School of International Training in Vermont in Conflict Resolution. Jemie earned his second Master's degree in Civil Engineering from the University of Birmingham in the UK. In 2007, he earned his PhD in Civil Engineering and Water Resources from the School of Mines and Technology in the United States.
Currently, Jemie lives in Pittsburgh, PA where he works at a private engineering consulting firm as the Managing Principal. He has been involved with the Post Fukushima response to ensure that the U.S nuclear power plants are safe from flooding hazards.
Although over a decade has passed since Jemie's time at the Arava Institute, his fond memories remain vivid. He says he'll never forget how "the Arava Institute enhanced my existing perspective on possibilities of strategic development and cooperation in the region to overcome water shortages."
Alana Tenzer, North American, 2009
Alana has been passionate about environmental studies, especially water issues, for years. She received a Bachelor's degree in Environmental Science and

Policy at the University of Maryland and trained to be a wild-land firefighter. While studying abroad at the Arava Institute in the spring of 2009, Alana refined her dream to work on trans-boundary water issues. "Arava was probably the single most influential experience of my life," she says. Through the Arava Institute, she learned about the  Master's program at the Jacob Blaustein Institutes for Desert Research at Ben Gurion University, a course of study that was perfectly aligned with her academic trajectory. Alana, now nearing the completion of her Master's program, has focused on investigating the reuse of alternative biomass as compost in agriculture and its affects on groundwater, plant and soil quality.
Alana notes that living closely with people from so many backgrounds, while enriching, was not without its challenges. But, she says, "No matter how hard it was at times, the Arava Institute is probably the place I feel the most free because of the positive associations I have with it."
Ahmed Sayareh, Palestinian, 2011
Ahmed studied at the Arava Institute from 2011 until 2012. Ahmed's time at the Arava Institute opened his eyes to the environmental destruction happening in this region. "There were places around where I live where I could always find gazelles and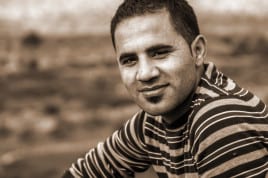 other wildlife, but now I don't see anything there. I wouldn't have noticed before I went to the Arava Institute." Ahmed lives in Al Khalil (Hebron) in the West Bank where he works in the public health sector analyzing blood samples. He's interested in starting work on a grassroots recycling program in his home city. Although the West Bank suffers from a lack of resources, infrastructure and funding to build recycling facilities, Ahmed believes that an education and promotion campaign could lay the groundwork for a future recycling program. "There is big, big work to do," he says.
Ahmed's time at the Arava Institute affected more than his view of the environment. "This is a unique opportunity for people from Israel and Palestine to meet people from the other side. I thought [Israelis] were all our enemies, but really it's the extremists from both sides who are enemies and there are people on both sides who are open."
Roee Elisha, Israeli, 2003
Roee attended Arava Institute for Environmental Studies while serving as a member of the International Dead Sea Project, run by the European Union. In this project he was responsible for conducting a comprehensive water budget analysis of the water resources in the vicinity of the lake.  Hailing from Levahim, Israel, Roee holds an M.A. in Environmental Studies from Ben Gurion University and a B.A. in Geography and Human Environment from Tel Aviv University.
Currently he is the Associate Vice President of the Israeli Government Company for the Dead Sea Preservation. His primary focus is the planning and implementation of the Dead Sea Project at the company's headquarters. In his previous occupation, he worked as a Regional Air Monitoring Project Coordinator in the Israel Union for Environmental Defense.
Elizabeth Goldstein, North American, 2008
Elizabeth Goldstein was a student at the Arava Institute during the Fall semester of 2008. As an American Jew she sees the need for productive dialogue and understanding from all sides of this conflict, and not just for Israelis and Palestinians, but for their sympathizers as well. Elizabeth is now a second year Rabbinical Student at the Academy for Jewish Religion in Yonkers, NY, and has a rabbinical internship at Temple Beth Emeth v'Or Progressive Shari Zedek in Brooklyn, NY. She posts weekly sermons to her blog, which she started during her semester at AIES.
Muna Dajani, Palestinian, 2008
Muna holds a BSc in Civil Engineering from Birzeit University, with a focus in water and environmental engineering. A resident of East Jerusalem, Muna spent two years working for NGOs in the West Bank, including the Near East Foundation and the National Democratic Institute in Jerusalem, where she was a translator for international observers during the 2005 elections in the Palestinian Authority. She believes that the water conflict is one of the key issues hindering peace in the Middle East, and more Palestinian professionals need to concentrate on this topic. In the fall she will begin her MSc in Environment and Development at the University of Manchester.
Itay Greenspan, Israeli, 2001
Itay, originally from Mevasseret Zion outside Jerusalem, studied at the Arava Institute for a year after graduating magna cum laude from Hebrew University with a B.A. in Geography. After being exposed to issues of land use and public policy, Itay enrolled in a Master's degree in Environmental Studies at York University, Toronto. He received his doctorate in Social Welfare from the University of Pennsylvania in June 2012 and started a position at his alma mater, Hebrew University of Jerusalem, teaching about NGOs, civil society, and social movements in its School of Social Work.
Michael Zwirn, North American, 1996
Michael studied at the Arava Institute after receiving his bachelor's degree in International Relations and Political Economy from Carleton College and a Master of Arts in Law and Diplomacy, with an emphasis in international environment and resources policy, from the Fletcher  School  of  Law  and  Diplomacy  at Tufts University. Currently, Michael serves as Director of Resource Development for Adeso, a nonprofit humanitarian assistance and development NGO based in Nairobi. Michael's prior experience includes directing the U.S. headquarters of Wildlife Alliance, an international conservation organization.  He has, also taken part in conservation and environmental work in the Middle East, Russia, and Southeast Asia.
Suleiman Halasah, Jordanian, 2007
Raised in Amman, Jordan, Suleiman Halasah was a student at the Arava Institute and then a Program Associate in 2011. Suleiman started an environmental consulting firm known as iGREENS. Suleiman remains extremely connected with the Arava Institute and he is always busy organizing and participating in trans-boundary projects and trips. He recently attended the Dickinson College 'Across Borders' trip, where he and other Arava Institute Alumni from the Middle East traveled to the States to meet with environmental and political professionals while simultaneously learning about trans-boundary environmental issues around the Chesapeake Bay.
Sarah Schuldenfrei, American, 2008
While her transition from the full 08-09 year in the Arava to the fast-paced life of New York City was not easy, Sarah has found ways to work towards the same ideals that flourish at AIES. Sarah is currently in her 4th and final year of studies at Barnard College in New York. She has participated in various community volunteering groups and has taught environmental awareness and science to children in some of the most polluted neighborhoods in the US.  As a student of Middle East Studies and Environmental Policy, Sarah is currently beginning research for her undergraduate thesis. Because she finds that the importance of sustainable water consumption and management are more and more obvious as tensions run higher every day, she is proud to be participating in scientific research that could make progress towards a better understanding of the resources available to the Arava and its beloved neighbors.
Gonen Sagy, Israeli, 2004
Dr. Gonen Sagy, an Israeli born on a kibbutz and raised in Zichron Yaakov, is the head coordinator of the Youth Environmental Education Peace Initiative (YEEPI), a program initiated by the Arava Institute to reduce tension and conflict between Jewish and Arab Israeli adolescents in order to advance solutions to common environmental issues. After receiving his BA in education, he studies at the Arava Institute and went on to get his MA from the Jacob Blaustein Institutes for Desert Research at Ben Gurion University.  He continued his studies at BGU to receive his PhD, for which he did qualitative research identifying the educational elements that lead to higher levels of environmental literacy.
Desiree Abecassis, North American, 2003
Desiree holds a Bachelor's Degree in Environmental Studies from York University in Toronto and completed it at the Arava Institute for Environmental Studies.  Desiree, a certified Naturopath, attained her Naturopathic training at the Natural Health Consultants Institute in Montreal and she is currently completing her master's degree at the Montreal Institute of Classical Homeopathy. Desiree's in depth Naturopathic training allows her to apply various modalities in treatment such as: holistic coaching, whole food nutrition and supplementation, homeopathy, herbology, traditional Chinese medicine and Ayurveda. In her practice, clients are led to a profound awareness of their thought patterns, habits and lifestyle choices and are empowered to partake in their own healing process. Holistic, whole person care is the underlying philosophy as clients are cared for on all levels including body, mind and spirit.
Maya Negev, Israeli, 2004
Maya was an Arava Institute student from 2004-2005 as part of the Arava Institute Masters program with the Jacob Blaustein Institutes for Desert Research at Ben-Gurion University of the Negev, from which she went on to earn her PhD in Environmental Health Policy. Maya was a doctoral fellow of the Environment and Health Fund, and was a Fulbright visiting scholar at UC Berkeley in 2009. Currently, Dr. Maya Negev is director of Environmental Policy at the Hartog School of Government and Policy at Tel Aviv University and a spring-semester lecturer in EcoHealth at the Arava Institute. She also teaches part-time at the Arava Institute. Informed by the relationships she formed with Jordanian students during her time at the Arava Institute, she worked with Professor Alon Tal to draft an environmental chapter for an Israeli-Palestinian initiative published by Friends of the Earth Middle East. She also worked as a research associate at the Van Leer Institute in Jerusalem, in the multiculturalism and public policy group and the environment and regional sustainability group.
Leiba Chaya David, North American and Israeli, 1997
Since her aliyah from the United States in 1996, Leiba Chaya has been exploring both the Land of Israel and the Israeli environmental movement.  After training as a field guide with the Society for the Protection of Nature in Israel (SPNI), Leiba Chaya came to the Arava Institute from 1997-98 to broaden her background in environmental policy and science.  She received her MA in Jewish Education from the Hebrew University. During her time at AIES, she became interested in environmental ethics and place-based education.  Leiba Chaya established "Ru'ach HaSviva – Jewish Environmental Initiatives" at the Jerusalem branch of the Society for the Protection of Nature and was one of the founding members of Teva Ivri, a non-profit dedicated to promoting Jewish social-environmental responsibility. She has also worked as an educator and tour guide for a variety of Israel Experience programs.
Noga Shanee, Israeli, 1999
Noga Shanee studied at AIES in 1999-2000 as part of the undergraduate program and later graduated from Oxford Brookes University, UK, with an MSc in Primate Conservation. She was recently awarded a PhD in Political Ecology at the University of Kent, UK. Noga co-founded Neotropical Primate Conservation in 2007. NPC was set up to promote the conservation of Neotropical forest habitat and all wildlife through various means including land protection, research, law enforcement against wildlife trade, improvement of degraded habitat for wildlife, creation of public awareness, environmental education, and facilitation of the commercialization of sustainable, ecological products on behalf of local people. Noga is the co-director of NPC's main project, The Yellow Tailed Woolly Monkey Conservation Project in Peru, creating a network of community run reserves to protect Peru's three endemic primate species.
Molly Rose Elkins-Ryan, North American, 2000
Molly Rose Elkins-Ryan is an alumna of Beloit College 2001 and attended AIES in 2000, later returning for the position of AIES Program Assistant for the 2004-2005 school year.  Originally from Chicago, Molly Rose spent time abroad in Melbourne, Australia, working at Monash University and helping to organize a World Cafe conference. She also volunteered with the Parliament of the World's Religions youth program where she met the Dalai Lama. Molly Rose also ran a workshop focusing on food security at the International Institute on Peace Education, which was held in Budapest, Hungary.  She always recycles.
Eric Amster, North American, 2000
Eric was a student at the Arava in 2000. Following his studies at the Arava, Eric received his B.A. from UC Berkeley, M.D. from UC Davis and his M.P.H. in environmental health from Harvard University.  He is currently completing post-graduate training in environmental and occupational medicine and is a research fellow in environmental health at Harvard University. Eric continues to be involved with the Arava Institute: he participated in the Environmental Leadership Exchange Program, rode in the Israel Ride, and has lectured in both undergraduate and graduate courses at the Arava Institute.
Sarah Lashley, North American, 1999
Sarah was a student at AIES in Spring 1999.  Upon returning to the United States, she finished her undergraduate degree in Environmental Studies at Allegheny College in 2000 and moved to Ukraine as an Environmental Education Peace Corps Volunteer for two years. After her Peace Corps service, Sarah received her doctorate at the University of Michigan School of Natural Resources and Environment in Environmental Justice and Conflict Management and completed a postdoctoral fellowship in environmental human rights at Colby College.  She is currently Assistant Professor of Environmental Studies and Director of the Center for Teaching and Learning at Centre College in Danville, Kentucky. Her environmental teaching and research is designed to enable nonprofit organizations, community groups, and government agencies to create and implement more productive and equitable conflict management processes in environmental justice situations.