Program Highlights
Take university-level, accredited courses in the Arava Institute's interdisciplinary academic program for one semester or a full academic year. Students can begin attending the Arava Institute and earn Loyola academic credit as soon as Fall Semester 2019.
Complete an internship focused on applied research, project management, and field studies for 2-12 months.
Plan a customized academic program or tour focused on cross-border cooperation, peace-building, and environmental studies.
Program Description
The Arava Institute for Environmental Studies is a leading environmental studies and research program located in Eilat, Israel (about 200 miles from Jerusalem). It houses academic programs in partnership with Ben Gurion University, research centers, and international cooperation initiatives focusing on a range of environmental concerns and challenges.
With a student body comprised of Jordanians, Palestinians, Israelis, and students from around the world, the Arava Institute offers students an exceptional opportunity to learn from leading professionals while forming friendships and developing skills that enable them to lead the region and the world in solving today's most pressing environmental challenges.
Academics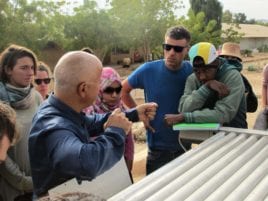 Students at the Arava Institute explore a range of environmental topics from an exceptional trans-boundary and interdisciplinary perspective. Each semester there are a number of courses offered and most courses are eligible to receive Loyola credit through the Institute for Environmental Sustainability, which has assessed the Arava Institute courses for IES credit.
Under the guidance of leading environmental professionals and academics, students take a full course load covering the natural and social environmental sciences. Courses are offered in the areas of environmental policy, water management, renewable energy, ecology, sustainable agriculture, environmental politics, and more. Students can also pursue an independent research project in the framework of a 3-credit elective independent study course.
The Arava Institute's academic programs are offered for credit through Ben Gurion University of the Negev (BGU). Each course is three academic credits and students receive an official transcript from BGU at the end of the semester.
The Arava Institute has hosted students from more than 100 different U.S. colleges and universities, but students should consult with an OIP Study Abroad Advisor to learn how credits will transfer to Loyola.
Life on Campus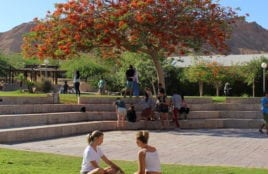 Kibbutz Ketura, home to the Arava Institute, was founded by a small group of young North Americans in November 1973. Today, it has grown to be the second largest community in the Arava region, with 160 members and approximately 400 people living on the Kibbutz at any given time. About one-third of Ketura residents are native Israelis, with the rest coming from countries such as the United States, Canada, Australia, Spain, France, Russia, and around the world. A gated community in the desert with 24-hour security, Ketura is known for its pluralistic approach to religious observance for which it has received numerous national awards for inclusivity and diversity.
Living on a kibbutz provides an opportunity to explore a unique way of life. Kibbutz members are dedicated to mutual aid and social justice following a socio-economic system based on the principle of join ownership or property, quality, and cooperation of production, consumption, and education.
Although the Arava Institute campus is separate from the area of the Kibbutz that houses members and their families, students are integrated daily into the lives of the Kibbutz members. No physical barrier divides campus from the greater Kibbutz and our community eats three meals a day in the Kibbutz dining hall. Additionally, students at the Arava Institute are invited to events and community gatherings coordinate by the Kibbutz, which allow them a greater sense of the Kibbutz lifestyle.
For any questions about the Israel arrangements, Housing or Touring, please contact Patti Ray, Hillel Director Emerita – pattiray80@gmail.com.
Program Costs
Semester Program Fee: $9,000
Internships and Customized Programs will be priced separately in partnership with the Arava Institute.
Includes:
Tuition
Accommodations
Board (a full meal plan in the kibbutz dining hall)
Health Insurance
Educational Field Trips
Application Process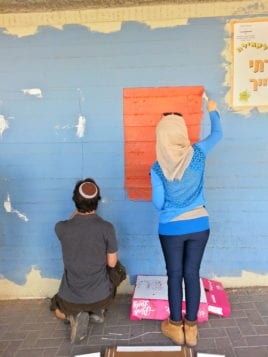 To study for Loyola credit at the Arava Institute, you need to request this option as a special Petition Program from the Office for International Programs (OIP), since the Arava Institute is not a Loyola "partner institution."  Please contact a Study Abroad Advisor at the Office for International Programs (OIP) for the details about how to do this.  Students will also need to fill out an Arava Institute Application in addition to the Loyola University Chicago Study Abroad Petition Application.
If you are thinking about attending the Arava Institute for the Fall 2019 Semester, you need to contact OIP as soon as possible. The OIP Petition Application deadline for the fall semester is MARCH 1, 2019.
If you have any questions about how to begin the application process or questions about the Arava Institute, please contact Patti Ray, Hillel Director Emerita, Loyola University Chicago at pattiray80@gmail.com.