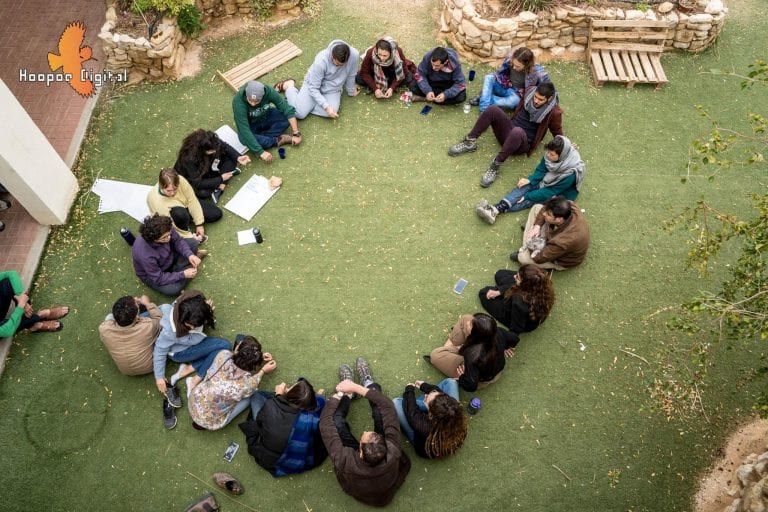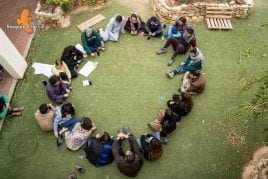 This year's Alumni Conference was held on January 16th-18th in Kibbutz Ketura with over 150 graduates, spouses, children, members of Institute staff, and guests. The central theme of the conference was the future of the alumni community.
The conference registration on Thursday afternoon quickly turned into an exciting gathering, as graduates from Israel, Palestine, and Jordan, some after years of not visiting the Institute, greeted each other and met friends from other countries. This informal beginning of the conference was followed by a festive reception over vegetarian dinner. The evening included opening words by Executive Director David Lehrer, an alumna address about climate change in the region, a trivia game, and farewell contributions by alumni and staff to Judy Bar Lev who is retiring after 15 years of coordinating visas and permits for students, alumni and researchers to attend all Institute activities. The formal reception was followed by a party until the early hours of the morning.
After an early yoga class on Friday morning for those who succeeded in getting up early, the participants met for a dynamic panel discussion on graduates' involvement in environmental and political activism.
The day continued with two sessions of elective workshops run by alumni for alumni. Alumni participated in one of the following workshops: Non-violent communication, exploring the Extinction Rebellion movement, bilingual yoga, leadership and mindfulness, Israeli Climate March: planning the Institute block, a lecture about the extinction of bees, a video conference with a Gazan peace activist, a lecture on green building, and two brainstorming sessions on the development of the alumni community.
After lunch, everyone met again for an opportunity to hear about each other's current activities during short TED-style lectures. This was followed by some unstructured gathering time before joining the kibbutz Friday night dinner.
On Saturday morning one of the graduates took interested peers on a birdwatching walk through the desert, followed by brunch on the campus lawn. The conference continued with an in-depth discussion on the future of the alumni community, led by Eliza Mayo, Deputy Director of the Institute, and Dr. Suleiman Halasah, alum and co-director of the Institute's Jordan-Israel Center for Community, Environment & Research, with break-out discussion groups reviewing the alumni community's vision, structure, communication, regional gatherings and planning calendar, as well as the question of re-entry of alumni to their communities after their studies.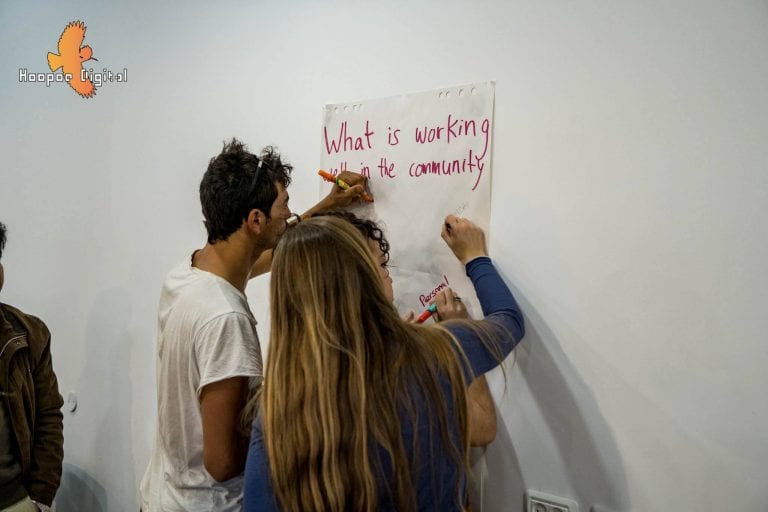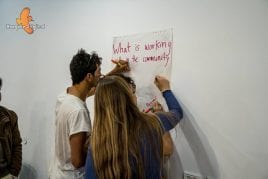 The conference was concluded with a mindfulness session during which the experience was summarized and processed in a series of brief meditations and conversations. This year's conference was planned in an effort to be more environmentally sustainable, including no new plastics, no printing of schedules, and an all vegetarian menu.
This year's conference was, sadly, also marked by the unexpected resignation of Tamara Rejwan, well-loved Alumni coordinator who played an essential role in connecting and strengthening the alumni community in the last 5 years. We thank Tamara for her hard work and commitment to the Institute, and wish her the best of luck in the future. We would also like to thank alumnae Randa Obeidat and Sharon Nahome who stepped up as a temporary Alumni Coordinator team to organize and run this conference.