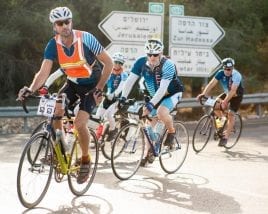 We have just completed another phenomenally successful Israel Ride. It was the 18th and largest Israel Ride in our history with over 200 participants and 60 crew members. This year's ride was particularly challenging as the police placed a whole set of new demands on us, and we faced bad weather in the beginning of the ride, which forced us to make last minute changes in the schedule. The Israel Ride staff and crew were particularly creative and nimble in meeting these challenges. On Saturday night during the Havdallah ceremony, as we said goodbye to Shabbat, we started to receive the tragic news of the shooting in Pittsburgh. We had 6 riders from Pittsburgh on the ride, most of whom had some connection to the Tree of Life congregations. One couple was good friends with Dr. Jerry Rabinowitz, one of the victims of the shooting. Dr. Rabinowitz had contributed to their ride. The riders are a very strong and compassionate community and quickly enveloped the Pittsburgh riders with their love and support. Each day of the ride, one rider is honored by being asked to carry a small Torah during the day. At the launch of the ride each morning, the rider who carried the Torah from the previous day, talks about what it meant to carry the Torah the day before and then hands it over to the rider who will carry the Torah on that day. Sunday morning of this year's Israel Ride, the day after the shooting in Pittsburgh, the Torah was given to Barb Mullen and Carl Fertman from the Tree of Life congregation. For a moving video of the passing of the Torah to Barb and Carl, click here.
We had great weather for the last two days of the ride and they were exceptionally beautiful and inspiring, leaving the riders on a high. Nigel Savage, the CEO and President of our partner Hazon, did an exceptional job of managing this mix of emotions; sadness at loss and elation at successfully completing the ride into Eilat. At the closing ceremony, Nigel managed to find the right balance with a song of love, strength, hope and joy.
[videowrap]
[/videowrap]
The next ride is November 5th through 12th, 2019. Registration is open www.israelride.org.
David Lehrer