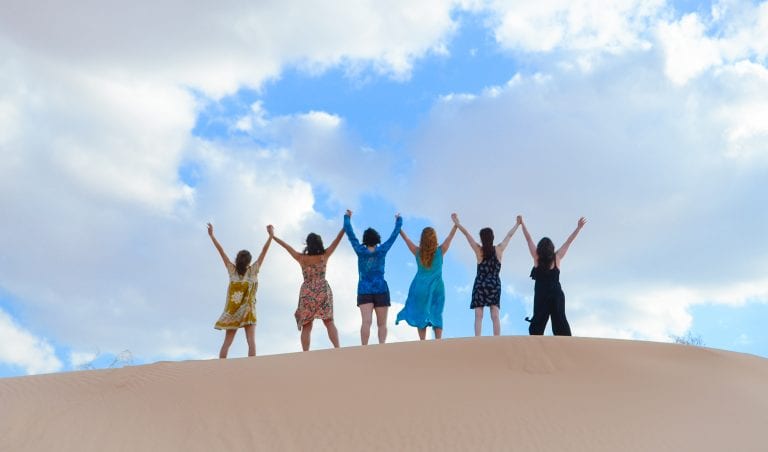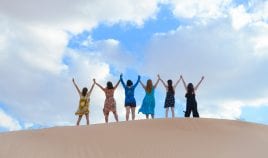 Last week we said goodbye to the students and interns of the Spring 2020 semester, our 'covid cohort'. The 57 participants from Palestine, Jordan, Israel, the United States, Ireland, Kenya, France, and Canada remained on campus together for almost two months of full shut-down without visits home, travel, or even walks to the grocery store. They were considered a 'household unit', and continued living together while taking online classes and participating in many peer-led community activities either online or in small groups. 
While all our alumni are brave at breaking down boundaries, deeply listening, learning, and sharing together of their politics, cultures, and hearts, this semester also braved the uncertainty of a global pandemic together, far from their families and communities of origin. Their unique journey is perhaps best expressed through these excerpts of the poetic speech held by a Palestinian and an Israeli-American student at their graduation ceremony:
We did it!! Asinoo et ze! Khalasna!

We are honored to have this moment and be able to tell you how much you mean to us. So, listen closely. 

You are too beautiful. You return the purple to my face, telling me: how dare you remain indoors as the sun sets, remember another day. 

Your curiosity is infectious, through you I learned how much I don't yet know.

You blew me away, teaching me about ethnic cleansing, Jewish history, and trust all in the same sentence.

You taught me that people are innately good, and your words penetrated beyond my soul. Thank you, I needed it.

You didn't give me a moment to forget what inspires me, you manage fire with expert hands, I look to my future with hunger thanks to you.

You didn't have much delicious food, but you pushed me to look at things a new way, to combine what was there already into excellence on my plate

You let me down, I know you could have done better.

The journey you took me on made me see the unseen and do the unexpected. You showed me the good we share as Palestinians, and that life can be so joyful.

You challenged my communication and my opinions, you left me vibrating with thoughts for days. Thank God we had facilitators, each other, and ourselves.

My Israeli hippie friends, I wish that you'll change others the way you changed me. I am blessed for the time we spent, for your positive, loving humanity. 

You held my whole body when I cried that one time, maybe two times. I'm better for knowing you.

You reminded me how language is the window into who we are, never missing the beauty of a word, inspiring me to do the same.

You sang me out of oblivion. You made me dance for real.

My housemate, with the food and the smoke, I love you so much. You don't know how much I'll miss you when you are far.

You made me laugh my absolute ass off, you have a talent for light.

You showed me how much life there is in the soil that I don't even know about.

Walla, you didn't say much with words, but your presence made me safe, made me feel family around me. 

You fixed everything, you answered each question, you made it all so much better, it wouldn't have happened without you.

You insisted on understanding, and you asked what the rest of us were afraid to.

What you cooked was so full of love, though I can never get full enough!

You made me unlearn, question, and find my own voice again.

 Your presence made me wonder, why it took me so long to come here.

[…]

They say that a liberal arts education teaches people how to think. But I think it mostly teaches you how to listen — in your classes and in your readings, in your meetings and PLS sessions, both face to face and through Zoom lectures, you've been listening. You've listened to your professors, facilitators and to your peers. And from listening, questioning is born: What do we owe ourselves, and what do we owe others? What is the nature of the universe, and what is our role in it? How best might we alleviate the suffering we see around us and also inside ourselves?

You learned about these questions at the Machon [Hebrew: Institute], but you won't leave them here. And while making your voice heard on those questions is vital, you've also learned here that your voice gets stronger the more that you listen — not just listening to loud voices, but also to those that are hard to hear because they have been systematically silenced.

[…]

This  group is home to those who know that we can't confront systemic problems alone: occupation, racism, climate change, we are lucky to see partners in this fight all around this place. You made the Machon in these last months. But, it's not a blank slate. It is something breathing and growing; it has a history: we now belong to this family without question. We have long lost relatives that have walked from the dining hall to the campus since 1996. And we were not alone. The staff and the faculty continued to keep this place running furiously even where every other place of study was closed. 

[…]

To all of the students and interns, to the entire Machon, you are the community that held us up for months. You allowed us space to take the picture in our heads of justice and of change and bring it out into the world. Thank you for this incredible start. Till we meet again.
We salute the Spring 2020 'covid cohort'! May they go on to do great things and bring the change the world needs now.