This past spring semester, 8 interns—Israeli, Palestinian, American, Sudanese, German, and Dutch—came to the Arava Institute for study and applied research focused on our shared environmental resources. Interns contribute substantively to Institute research through a defined project under the direction of an Arava Institute faculty member or researcher, while gaining valuable professional, academic, and personal experience. They also participate with the program's student cohort in dialogue designed to deepen relationships while increasing understanding of the history and dynamics of the conflict. Past interns have coauthored papers, presented research posters, and conducted site visits. Spring interns shared their research at the intern fair and one of the projects this semester was just presented by Dr. Jessica Schäckermann at the 51st Annual Conference for Science and the Environment! Here is a sampling of the important research from the spring semester's intern cohort.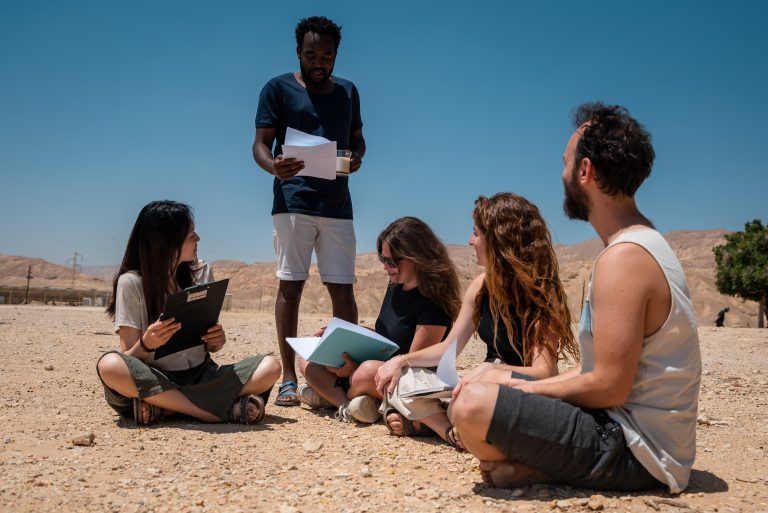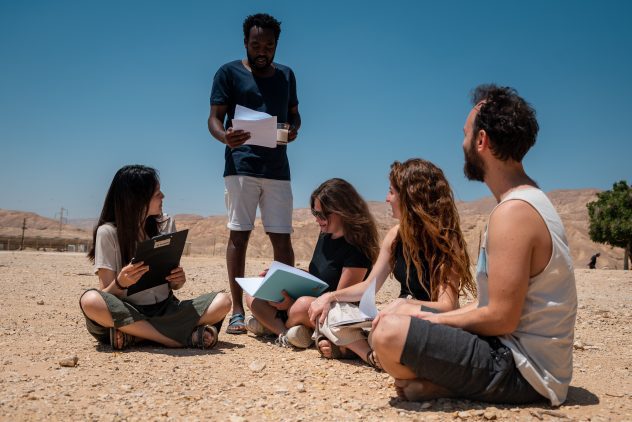 Community-based Microgrid – Agrivoltaics Designs with Flywheel Storage System Desalination Plants for Off-grid Communities | Rural electrification has become a necessity, not a luxury in addressing water and food security issues. Article 25 of the United Nations explicitly acknowledges water and food as fundamental human rights (United Nations, 1948). Due to climate change and population growth, access to these resources is becoming extremely difficult in the absence of energy resources. Therefore, energy is an indispensable input in the water-food nexus. This paper investigated microgrids with a flywheel and biomass energy storage systems for small-scale desalination plants. The intern used mixed methodology to assess the feasibility of flywheel storage systems (FSS) in microgrid applications and to quantify the overall cost of small-scale water purification units. His findings suggest current FSS are not yet mature enough for independent microgrids, but with continuous progress in energy storage technology, the current prototype of a long-duration FSS will soon become a competitive energy storage option. With declining prices of renewable energy and desalination plants, the research suggests that a green investment of less than $40,000 could provide potable water for over 1,000 people situated in remote regions for over 20 years.
Track II Environmental Forum Water Interventions in the West Bank and Gaza |  After completing her first semester, a Palestinian student decided to extend her experience into the second semester as an intern to gain a more meaningful experience and enhance her professional horizons by working on one of the main environmental projects in the Institute's Track II program. Her internship supported the work of the  Track II Environmental Forum water group effort by creating a document detailing maps of water intervention in the West Bank and Gaza. These water resources include surface water, sub-surface water, and also man-made throughout Palestine. This policy document engages  local and international governments, the local community, and international donors and is achieved by using geographic information system, (GIS) software.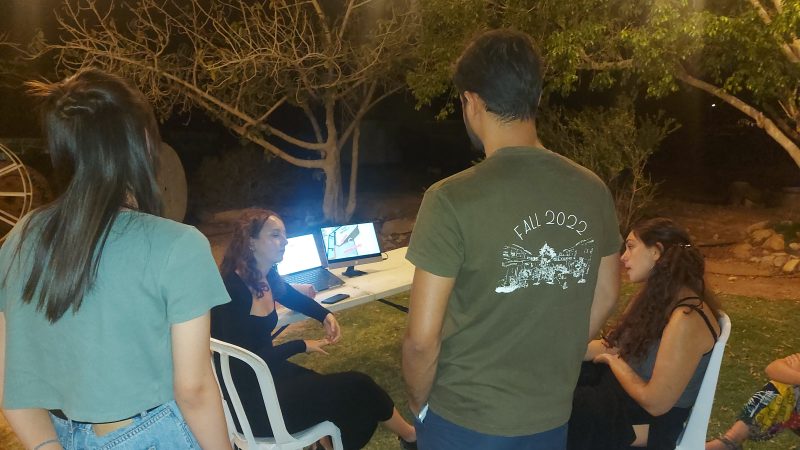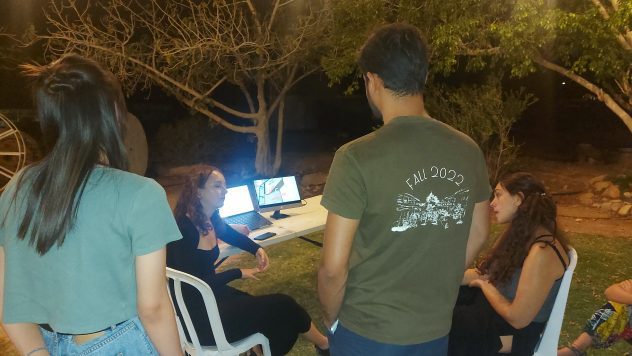 An economic evaluation of the Laguna wastewater treatment system for communities in the West Bank that compared different cost and political barriers associated with installing a Laguna system versus another competing off-grid system. The goal of the project was to assess the cost and consequences of both options and test if the Laguna system is an efficient alternative.
Both-End Open Evacuated Solar Tubes | This intern explored installation of a Both-End Open Evacuated Solar Tube Collector system in the Arava Institute's off grid technology village. This technology is experimental and has not been previously implemented anywhere in the world. The aim of the project was to increase the solar tube collectors efficiency by using the thermal efficiency equation aided by the thermometer and anemometer. Previous research conducted at the Arava Institute along with literature reviews contributed to the intern's comparison to the efficiency of the current system.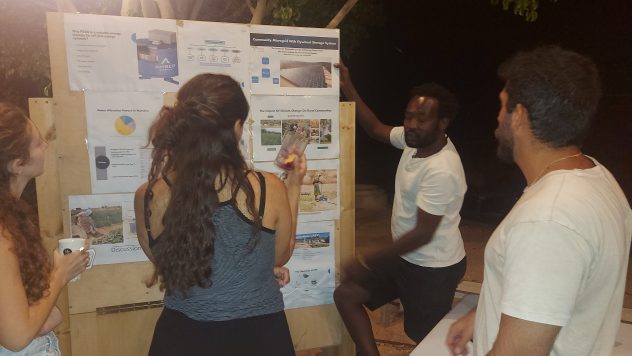 Investigation of the Potential of Bat Boxes to Enhance Bio Pest Control in Agriculture in Desert Agriculture | Bats are known to feed on insects, especially moths which attack date fruit reducing the product quality; therefore, promoting bat existence in the southern Arava region will promote biological pest control measures. Other studies showed that overheating of bat boxes is a problem in hot environments and this project tackled this issue by testing the temperature of the roosts using iButton sensors—collecting temperature data and eliminating roosts that heat above 40 °C, which harms bats and can cause their death. The research covered three sites where bat boxes were installed. The study results will provide essential insights into the suitability of bat boxes and help develop better designs for future bat box installations in agricultural sites in southern Arava. The study is vital to advance bat conservation efforts, as bats play an essential ecological role in pollination and insect control, providing necessary ecosystem services. By identifying suitable bat roosts and communicating this knowledge to farmers and other interested parties, the  study will help promote the well-being of bat populations and enhance their ecosystem services.  In addition, the data collected will aid in producing a manual for farmers in the area promoting pesticide-free practice in agriculture and nature conservation.
Assessing Track II  Environmental Diplomacy Strategy|  Track II implementation work has relied upon a rather ad-hoc assessment. This intern conducted research to develop capacity for a more strategic (yet still feasible) approach. Her research was structured into three different phases: first, an assessment of the baseline situation of environmental commitments and actions on either side (primarily in the areas of waste, water and energy), as well as the execution of these commitments. This allowed her to identify obstacles that Israel and Palestine face in the implementation of their waste, water, and energy policy. Second, she carried out a number of interviews with government officials, with the aim of identifying the priorities of each party in terms of these commitments (long and short), and respective pain points. Third, her research aimed to suggest a strategy for implementation using a possible Track II approach that could help the relevant parties in overcoming current obstacles and fulfilling their priorities.
Integrated Crop-livestock System Utilizing the Domesticated African donkey and the Experimental Argania Spinosa Trees | A second semester intern in the Center for Sustainable Agriculture designed an integrated crop-livestock system utilizing the domesticated African donkey and the experimental Argania spinosa trees. The aim of his research was to measure the biotic activity in Argan fields weeded using silvipasture, the practice of integrating trees, forage and the grazing of domesticated animals in a mutually beneficial way against conventional weeding methods. His internship also included a professional component where he learned the basics of running a sustainable orchard suitable for research, including orchard design, maintenance, and use for scientific purposes.
Developing and Disseminating an Evidence-based Healthcare Professional Training Program for Women to Address Tobacco Use in Gaza and the West Bank | This intern's research program started in February 2023 with Dr. Elli Groner  (Principal Investigator) and Dr. Mohammed (Co-investigator) and a steering committee from both Palestine/Israel and the US. The program coordinator from the Israeli side connected Israeli and Palestinian partners and participants, focusing on Arab women from both Israel and Palestine. The intern sought to recruit Bedouin women candidates from Israel for a Zoom training in addition to other management roles. The program will span two years and aims to develop and create a free-smoking environment inside NGOs (Nongovernmental Organizations) in Gaza, West Bank and Israel by training 12 women in total: 4 from Israel, 4 from Gaza, 4 from the West Bank  who are working in these organizations (smokers and non smokers ) in the hope that this will  also lead to smoke-free houses.
Wildflower Strips in Desert Agriculture to Support Biological Pest Control and Pollination | Israel's Arava desert is characterized by intensive agriculture, causing reduced biodiversity and loss of related ecosystem services in agroecosystems. Wildflower strips adjacent to agriculture are a known method to enhance biodiversity,  however, this is a new concept in arid environments. Flash floods are a natural phenomenon in the Arava in winter, resulting in blooming desert plants in flooded channels. These flowering plants attract a diversity of insects, including pollinators and natural enemies. The goal of the  study was to enhance ecosystem services like pollination and biological pest control by introducing natural flowers to desert agriculture. In this study, the intern collected seeds of native desert plants from seed banks and fellow researchers, to test if they could be used in natural flower strips. The seeds were tested in a) pots in a net house experiment with potting soil  and  b) experimental plots next to date plantations. The results show that some native desert plants have a high potential to enhance biodiversity in agroecosystems when  used in flowering strips in desert agriculture.