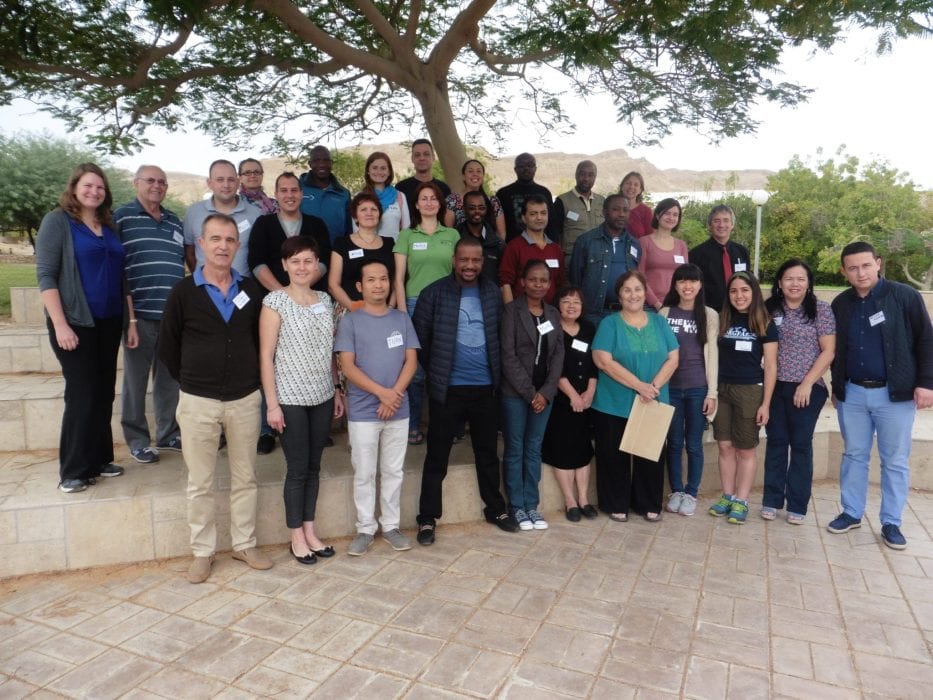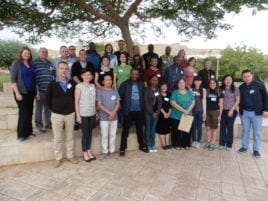 From Nov 27th – Dec 13th 2016, the Arava Institute held a new MASHAV* training program titled "Environmental Management of Nature Parks and Reserves", as part of the ongoing work of the Arava Center for Sustainable Development (ACSD).
The 25 professionals working for governments, NGOs, decision-making bodies, academia and the private sector, who were chosen to attend represented twelve countries from the developing world: Kenya, Ghana, Colombia, Nepal, Botswana, Paraguay, Brazil, Serbia, Ukraine, Vietnam, Albania and Thailand.
The workshop exposed participants to arid land functions and the services they provide. Participants learned what ecosystem services are, and discussed different management styles with an emphasis on biosphere reserves. They learned how ecosystem services can be assessed, valued, priced and translated to management practices, as well as about the differences in management between several types of eco-systems. The course also included elements of renewable energy use, sustainable agriculture and water resources management.
The group toured a variety of nature reserves and parks including the International Birdwatching and Research Center, the Coral Beach in Eilat, Evrona (site of the 2014 oil spill), Hai-Bar Yotvata, and the Ein Gedi Nature Reserve. The group also spent an afternoon at the Lotan Center for Creative Ecology, learning about sustainable desert building and eco-tourism.
Highlights of the seventeen-day course included: guided snorkeling on the Coral Reef; MASHAV culture night with kibbutz members joining to learn from participants about their cultures; and a final ceremony in Jerusalem attended by the Director of MASHAV's training programs, Ambassador Mattanya Cohen, in addition to ambassadors and consulate representatives from the Albania, Botswana and Paraguay embassies in Israel.
The participants left the Arava Institute and Israel inspired and equipped to advance Environmental Management projects in their own countries.
We congratulate the graduates of the course, and would like to thank the responsible staff members: Dr. Shmuel Brenner, Dr. Elli Groner, Tali Adini, Abby Lutman, and Avigail Ben Yohanan for implementing this new course.
*MASHAV:
Israel's Agency for International Development Cooperation, known as MASHAV in its Hebrew acronym, was founded in 1958 as part of the Ministry of Foreign Affairs. It is responsible for initiating and implementing Israel's development cooperation program worldwide. MASHAV aims at transferring the expertise and technologies that have assisted Israel in its own path to development to other countries.