Speaking to the Jerusalem Press Club, Arava Institute Executive Director Dr. Tareq Abu Hamed emphasized that no one wins in a war. The only way to stop this cycle of violence—this cycle of war—he said, is to hold dialogue for understanding and to build trust to find the just peace that we all seek.
The Arava Institute continues to hold this now fragile space during the war. Our academic program continues in person and virtually. Palestinians, Israeli Jews and Arabs, and students from the US, Guatemala, Germany, and Kenya continue to learn together. Everyone on campus is safe. Classes resumed because we felt it was important for the students to have some kind of framework to deal with the situation, but with restructured classes to make them more flexible. Two students were interviewed in the Washington Post about wanting to remain in the Arava Institute community while Americans students in other Israeli programs may be leaving.
What this article leaves out are the reasons why they are staying. Our students want you to know why:
Sophie from Carlton College wrote, "I'm staying because it feels pretty safe here, but also I think it's even more important and meaningful to be here now when there's a war, because the community here is what we want the region to look like. It is very amazing and powerful that we keep supporting each other. I believe that what we do here is the way toward peace."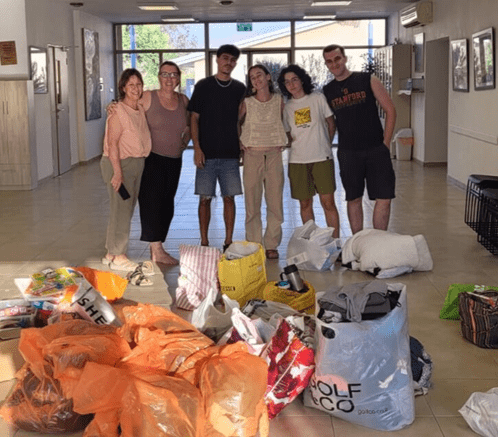 Arava Institute Executive Director Dr. Tareq Abu Hamed and Academic Program Director Cathie Granit described an overwhelming feeling of shock, despair, and helplessness, both from students and the faculty and staff. Despite this, students have been acting to help the thousands of evacuees from the Gaza border area who have relocated to the Arava region and Eilat. The students immediately held a drive for donations and worked with the local council. They are also volunteering to help serve dinner in the kibbutz dining room, overflowing with more people due to displaced families from the Gaza area who are on Ketura as well as some 60 – 100 relocated participants of the Young Judea Year Course program.
There is an immense amount of support on campus, but there is a level of trauma that we are not fully prepared for both on campus and in our staff and communities. To process what is happening, we are providing formal and informal counseling, mindfulness training, additional dialogue sessions, group zooms with students and as well as zooms for our alumni community. We are committed to continuing that support, to being in conversation on campus and across the border so that when calm returns, we are ready.
As Tareq emphasized, we at the Arava Institute still believe in another way—even now, during this war. He described the impact of the huge number of supportive emails the Institute has received from around the world. One of the aspects that he says sets the Arava Institute apart is that we are in continuous dialogue both with our Israeli partners and our Palestinians partners—the lines of communication are always open, even during war.
The Arava Institute's community extends beyond the campus of course. Our alumni community is in the Middle East and beyond, and they are turning to the Institute for support as well. Tareq, Cathie, our alumni coordinators and other colleagues have been in touch with them, organizing group gatherings over zoom and providing support.
A supporter reminded us last week that "we must remember that hope is our superpower. You help us hold onto hope, and we are all hoping with and for you."