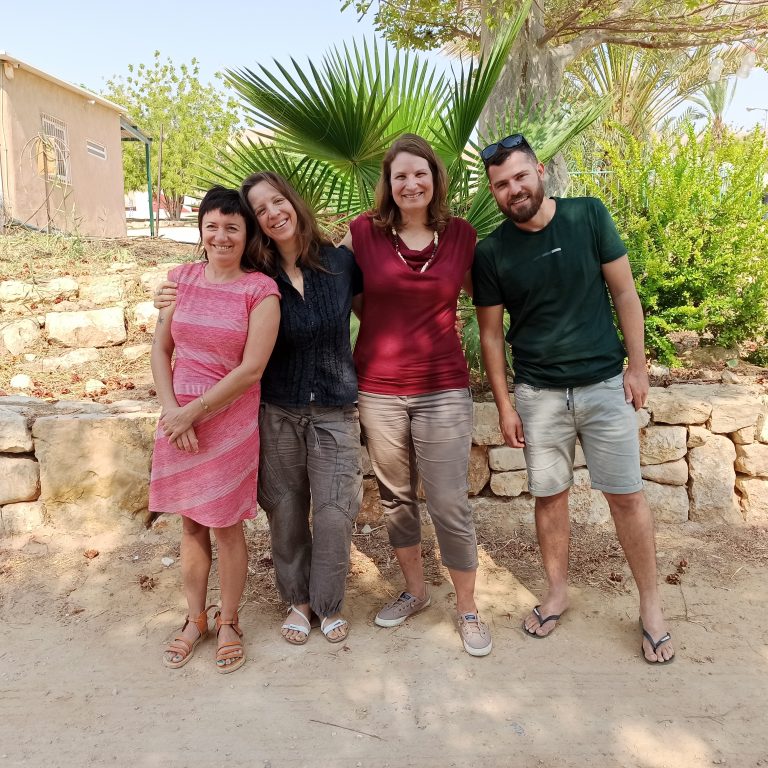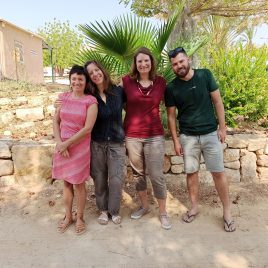 Our Short Programs & Logistics Department organizes and facilitates personalized study and travel programs for groups, and assists other departments of the Institute in the organization of events, and day-to-day logistics. Regular and past programs include the yearly Israel Ride in partnership with Hazon, the Worcester Polytechnic Institute Internship, the Beyond Borders tour, and various MASHAV courses in partnership with the Israeli Foreign Ministry.
Director of Short Programs
Avigail Ben Yohanan has been working at the Arava Institute for 6 years, first as Director of the Israel Ride, and now as Director of the Short Programs Department. She lives in Be'er Ora, 15 minutes north of Eilat, with her husband, two daughters, and a cat. She was born and raised in Jerusalem, has a background in youth movement work in Israel and abroad, and Bachelor's and Master's degrees in Geography with an emphasis in environmental education. Her work at the Arava Institute brings together her experience in informal education, love of the environment, and joy in presenting tourists and visitors with a positive encounter of Israel.
Reut was born and raised in Kibbutz Sde Boker, and is a member of Kibbutz Yotvata. She joined the Arava Institute when she was searching for fulfilling, significant work that makes a difference. Her previous work and volunteering experiences include organizations such as an addiction rehabilitation youth village in the North of Israel, a Jewish community in Russia's Ural region, and the Palmach Museum in Tel Aviv. Reut holds a Bachelor's degree in Israel Studies and Youth Rehabilitation, and lives on Kibbutz Yotvata with her husband, four children and a dog.
Max Kopitchinski was born in the United States and moved to Israel as a child. He holds a Bachelor's degree in Humanities and East Asian Studies, and a Master's degree in Leadership and Education System Management. He has previously worked as a youth counselor and education manager in various organizations, including Migvanim and Young Judea. Max moved to Kibbutz Ketura with his wife and two children in 2019, and enjoys running, playing soccer, traveling, hiking, working with wood, and gardening.
Illana Leizin was born in Russia and immigrated to Israel as a child. She joined the Arava Institute during Aug-Dec 2015 as an Ecosystem Service assessment intern and a Program Associate. In 2018 she completed her Master's degree, researching the social identity of sustainable fashion designers and consumers. Illana is the co-initiator of the Sustainable Fashion Forum in Israel, and is involved with many cultural, social and sustainable projects. In 2019 she returned to the Arava region to become the institute's Campus Life Director, and is excited to now move on to another meaningful position in the Institute. Illana aspires to live a zero waste life, enjoys yoga, walking with her dog in the desert, watercolors, and multi-cultural music.
We're excited to welcome Illana and Max to our team! We would also like to take this opportunity to thank outgoing Short Programs Associate Rotem Meiri for her years of committed work at the Institute.