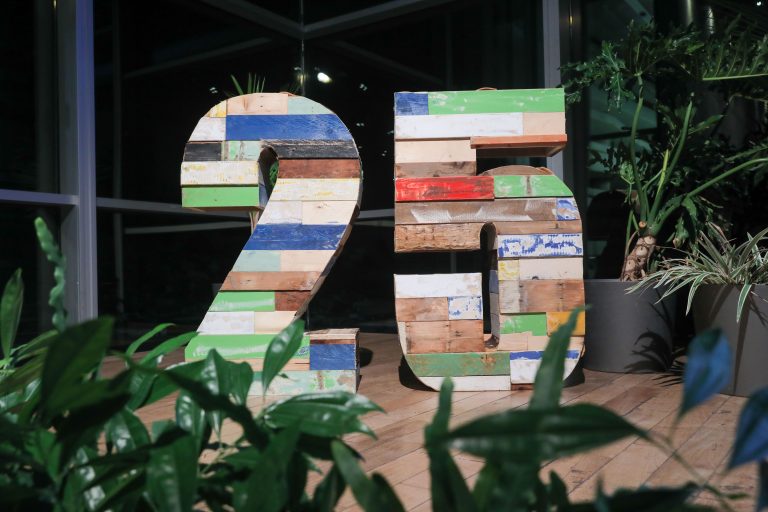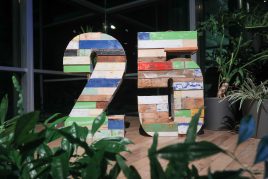 On December 21st, we celebrated 25 years since the founding of the Arava Institute with a public event at the Peres Center for Peace & Innovation in Jaffa, attended by 130 Arava Institute partners, alumni, supporters, staff and friends.
After a festive reception during which guests had an opportunity to mingle and get to know the different key actors of the Arava Institute, everyone gathered for the main event hosted by actress and member of our Public Council Keren Mor. The evening included an opening address by Minister of the Environment Tamar Zandberg, a spoken word performance by comedian Yossi Zabari, and a musical performance by our friends Achinoam Nini (Noa) and Mira Awad.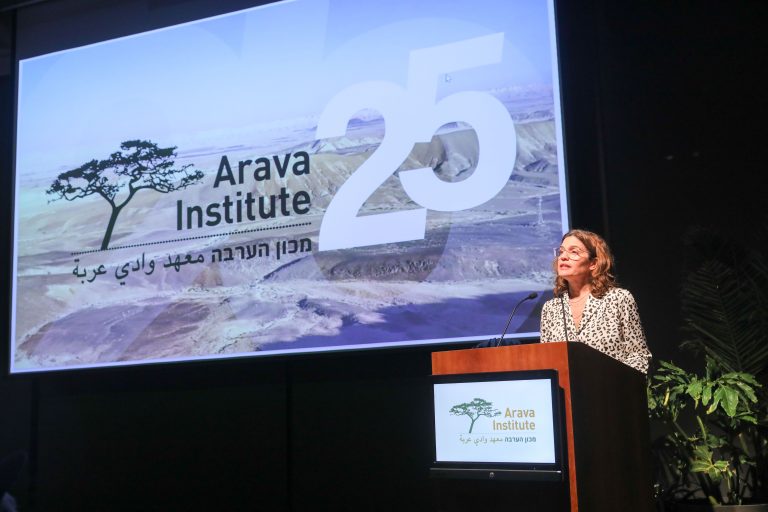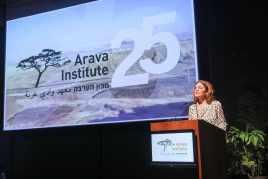 In addition, five Arava Awards were given to outstanding individuals and organizations embodying the Arava Institute's mission:
photo by: Ronen Topelberg

Sha'anan Streett for his many years of public activism to promote peace and dialogue in the Middle East, and for his continued support of the Arava Institute. With his skillful and courageous activities, Streett is an example and role model for all those who seek to speak out on issues of of peace, liberty and justice.
Damour for Community Development, represented by former Palestinian Authority Ministers Ashraf Al-Ajrami and Dr. Shaddad Attili, as our main partner in the Track II Environmental Forum. The organization focuses on strengthening Palestinian society, and developing the tools, skills, and values necessary for social and economic development, and believes that in order to increase the chances for a successful peace process communication and dialogue processes have to be developed, in order to facilitate mutual understanding and conflict resolution between Israelis and Palestinians, based on common interests.

photo by: Ronen Topelberg

Dr. Dov Khenin in appreciation of his activities as a visionary, jurist, and activist for peace, equality and social and environmental justice. Dr. Khenin was a member of the Knesset from 2006 to 2019, passing dozens of laws on these and other issues. He is the chair of the new Israeli Climate Forum initiated by President Isaac Herzog. Khenin is also an important partner to the Arava Institute in our cross-border environmental and social activities, and works tirelessly to promote dialogue between our region's residents, and to resolve the Israeli-Palestinian conflict.
Dr. David Lehrer, the Arava Institute's Executive Director for the past 20 years. Dr. Lehrer lead the Arava Institute to unprecedented achievements such as the founding of the Track II Environmental Diplomacy Forum, the establishment of academic relationships in Israel and worldwide, a significant increase in the number of students and interns, and many more. Under the leadership of Dr. Lehrer, the Arava Institute spearheaded a vision of a just and sustainable Middle East.

photo by: Ronen Topelberg

Keren Mor, the host of the evening, received a special surprise award for her ongoing support of the Arava Institute throughout the years. An active member of our Public Council since its establishment in 2013, Mor is an enthusiastic supporter and promoter of values for a just society in our region, and has hosted the last three public Arava Award ceremonies with grace and humor.
It was an honor to host such an exclusive selection of people at our celebration, and we look forward to their continuous cooperation and support.