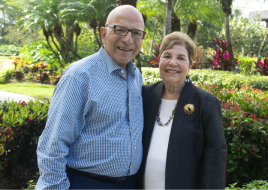 "I don't know of any other organization that is doing work this important," says Richard Goldman, "so I wanted to guarantee its future down the road."
Richard, a trustee of the Friends of the Arava Institute and an Israel Rider (2014, 2018, and 2019), has done just that. He has included the Arava Institute in his estate planning and made a legacy gift that will ensure the future of its crucial cross-border cooperative environmental work.
"The work of the Arava Institute is exactly what Israel and the Middle East needs. When I met the students at the Arava Institute, and saw the trust they build and the solutions they create, I knew I needed to help this incredible mission," Richard says.
"I still make donations every year, but my trust is the best way for me to provide for the Arava Institute's long-term future building peace in the Middle East."
Richard has created a Charitable Remainder Unitrust (CRUT), which generates interest that goes to Richard and his wife, Renée, during their lifetime; afterwards, the funds in the trust will be donated to the Arava Institute. "A CRUT is a really great option for donors, because you give and you get!" Richard explains. "And you don't need to be fabulously wealthy, either; anyone can do this."
Richard has a long background in education; he holds a PhD in Education from the University of Pittsburgh, and he and Renée have been entrepreneurs in the field of online education for many years. Their gift will create a wonderful legacy that allows the Arava Institute to educate more Israeli, Palestinian, and Jordanian students in environmental cooperation for years to come.
"We are so grateful to Richard and Renée for their generosity," says Miriam May, Chief Executive Officer of the Friends of the Arava Institute. "This legacy gift will give the Arava Institute the security to advance its work to contribute to a more sustainable and peaceful future for the Middle East."
You can explore ways to make a legacy gift to the Arava Institute on our website here, and ways of donating here. You can also contact Rachel Kalikow, Director of Development at the Friends of the Arava Institute, for more information on legacy giving.