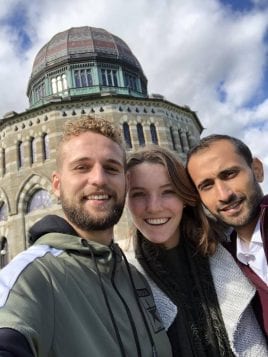 Last month, I participated in the bi-annual Arava Institute alumni tour—also known as the Dialogue Project. On this speaking tour, myself and two of our recent Middle Eastern alumni, Ben Ben Ami and Hasan Ebdah, traveled to 8 different states, 11 university campuses, and spoke with dozens of different communities about the importance of cross-cultural dialogue and cross-border environmental cooperation.
Not a moment went by in those three weeks where I didn't learn something new—about the world we live in, how we interact with one another, and the complex identities and narratives we hold close to our hearts. The only moment in my life where I experienced similar challenges and feelings was during my two semesters at the Arava Institute. My time at the Arava Institute challenged everything I understood about society, politics, religion, spirituality, and the environment. The interactions within such a diverse community make us seek out the truths in ourselves, making us ask the question: what parts of my beliefs come from the society I was raised in and what are my own?
In many ways, our presentations on this speaking tour are a continuation of the cross-cultural dialogue that takes place at the Arava Institute. Throughout our semesters at the Institute, we alumni go through a process to understand ourselves and our perceptions of the world within a community comprised of very different people. One of the main communication skills we learn at the Arava Institute is empathetic listening. This skill becomes our tool to better understand one another, aiding our journey to become a truly cohesive and diverse community.
For example, during this past Dialogue Project, we hosted an empathetic listening workshop at a university with students from Hillel and Students for Justice in Palestine. The objective of this workshop was not to convince one group to adopt the views of the other, but rather to foster a respectful dialogue session where each group could practice listening empathetically to the values and concerns of the other.
One of the greatest challenges that Hasan, Ben and I faced on this Dialogue Project was explaining what the Arava Institute community is. We wanted our audiences to really understand that this community is not the people themselves or the research we conduct, it's our common understanding. It's a way of life that can be adopted by anyone—no matter where you come from. The Arava Institute showed us this way of life is possible. I believe that this is one of the greatest services that Arava Institute Alumni can share with the world.
There are no words to describe the feeling I had when I saw that an audience member of our Dialogue Project presentation understood our community. It's as if a small light just appeared on a dark map. No matter how tired I was at the end of my day, that light made everything worth it. The Dialogue Project has left me hopeful for the next generation of Arava Institute Alumni who will carry this light with them into the world and share it with more people throughout their life. This is the impact that the Arava Institute will have in the world, and I am grateful to be a part of that.
Sarah Braverman is an American alumna and former Program Associate of the Arava Institute (2017-2018). She currently serves as University Relations Manager at the Friends of the Arava Institute in Boston, MA.
To learn more about the Dialogue Project, click here.