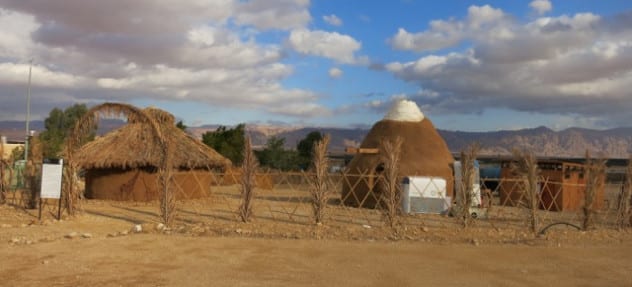 Off-grid technology innovations have recently sparked an extensive amount of enthusiasm, curiosity and media coverage.  The Off-Grid Technology Village is at the forefront of these innovations with cutting edge research and development of off-grid products and technologies. The village is located at the Arava Institute's Daniel Fischel and Sylvia Neil Family Research and Visitor's Park on Kibbutz Ketura, and is dedicated to bringing off-grid technologies into developing markets using strategic partnerships in target countries.
The Off Grid Village exhibits different styles of inexpensive and rapid deployed structures that are used for research testing and validation, demonstration and showcasing of ecosystems and off grid product solutions for energy, water and agriculture needs. These products could be invaluable to underserviced populations not connected to their national grids.
The village houses three different structures used for technological research and demonstration, each of which is a model of standard habitats found in off-grid communities around the globe. The structure types include common buildings found in rural and urban developing regions.
Collect, summarize, and analyze data from the Hub's installations to demonstrate long-term system quality and practical application.
Provide an incubator for innovation in renewable, decentralized energy technologies.
Promote a long-term cooperative strategy for Israel, the Middle East, and the world to build sustainable, efficient, and economic solutions for off-grid communities.
The village offers a unique testing and demonstration site to introduce new technologies and prototypes. Local research and small start-up work is tested and presented on an ongoing basis. Current research projects include:
Vacuum Tube Solar Oven: A solar oven which uses insulated tubes to absorb the sun's energy to heat water or food.
Solar Cooker: This cooker offers a sustainable alternative to open-fire cooking which has been linked to health issues.
Solar Generator: Powerful and compact, this solar generator can supply power for hours and is durable, easy to use and lightweight for portability.
Powerpot: As water boils in this pot, phones and other electronic equipment are charged.
Off-Grid Alert System: Provides a viable, solar-powered alarm system to prevent animals or equipment looting.
HomeBiogas: Household sized biodigester which converts organic waste and animal manure into usable energy for cooking, heating, other household needs.