Campus Life Team
The Campus Life Team consists of the Campus Life Director, the Campus Life Coordinator, and two Program Associates. The Program Associates are alumni of the program. They live on campus with the students and work with the Campus Life Director and the Campus Life Coordinator to run the program.
Campus Life Director
Illana Leizin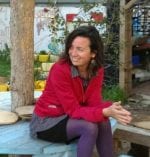 Illana was born in Russia and immigrated to Israel as a child. She was an Ecosystem Service assessment intern and a Program Associate at the Arava Institute in 2015. The experience greatly influenced her. In July 2018, she completed her MA at Tel Aviv University, researching social identity of sustainable fashion designers and consumers. She is the co-initiator of the Sustainable Fashion Forum in Israel, and is involved with many cultural, social and sustainable projects, mainly in Tel Aviv, working with both local activists and decision makers. In addition, she worked at Tel Aviv University's Porter School of Environmental Studies as an international internship coordinator. Illana lives a zero waste life, enjoys yoga, cycling, and multi-cultural music.
Campus Life Coordinator
Aviv Saad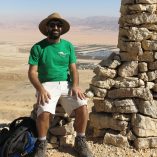 Aviv Saad grew up in Givatayim in the center of Israel, today he lives in Kibbutz Grofit in the Arava with his partner Gili. He holds a Bachelor's degree in Humanities and Literature from Tel Aviv University. Before working at the Institute, he ran informal educational programs as part of Educating for Excellence, the Israeli Scouts, and the Kibbutz Grofit afterschool program. He has also been an Emissary for the Jewish Agency in Los Angeles, and lead the Garin Tzabar program for young Americans joining the IDF. Aviv moved to the Arava region in 2019, and enjoys riding bicycles, practicing yoga, and hiking through the area.
Program Associates
Program Associate 1
Our first Program Associate grew up among olive trees and mountains in a village in the West Bank. He holds a Bachelor in Mechanical Engineering, and has spent a lot of his life volunteering, especially in leadership and youth programs. At the height of the coronavirus crisis, he arrived at the Arava Institute in 2020 to study for two semesters. During his time as a student, he further developed various interests, especially a passion for social science in general, and environmental politics specifically. He is very happy to return to the Institute as a Program Associate, and is looking forward to be part of another community in the middle of the desert.
Madison Simons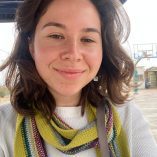 Madison Simons was born and raised in Thousand Oaks, California. She completed her Bachelor's degree at Stanford University, where she studied Human Biology. In the Spring of 2020, Madison internet at the Arava Institute and developed a passion for international collaboration and human rights advocacy. After working for the Los Angeles Public Defender's Office for a year, she is returning to the Arava Institute as a Program Associate for the Spring 2022 semester. She plans to attend law school in the fall to study international human rights law. In her spare time, Madison enjoys reading, writing music, and singing.
Campus Life Activities
Outside of their academic schedule, students frequently take part in a variety of extracurricular activities including desert hiking, yoga, gardening, camping, mud building, music and horseback riding. There are regular potluck dinners, festive meals and religious and secular holiday activities, as well as culture, music and movie nights.
Each semester, students are encouraged to form their own activity groups based on subjects they want to teach and learn. Past activities have included conversational Hebrew and Arabic, salsa dance, gardening and environmental action, and creative writing.
Students are also invited to take part in Kibbutz events, holidays, and general activities. Students often mingle with kibbutz members and volunteers at the kibbutz pub and have the opportunity to be hosted by a kibbutz family for meals and coffee during the semester.
THE WEEKENDS
Although there are students on campus during the weekends and breaks, during the semester many students choose to travel, often being hosted in the homes of classmates or alumni that they meet on the program. The Arava Road, or Highway 90, runs just outside the main kibbutz gate, with buses going south to Eilat (a resort city on the Red Sea that borders Aqaba, Jordan) and north to the Dead Sea (two hours away), Be'er Sheva (three hours away), Tel Aviv and Jerusalem (each four hours away). For a quicker get-away, students visit a neighboring kibbutz called Yotvata, which is famous for its delicious ice cream and chocolate milk, made fresh from Yotvata's dairy.